A picture, they say, is worth a thousand words. In this case, it's worth a thousand laughs. Since the launch of the Instagram service in October 2010, millions of users have taken to video and image journaling, resulting in a much more focused social media platform that doesn't waste a lot of your time with boring articles and rants. One of the perks of such an image-centered service, is that it can use visuals to document some of the funniest things going on in the world. And in our opinion, the funniest things are the most unexpected.
Case in point: random street signs. We've combed through the social networking site and found some examples that truly take humor to the next level. Here are our favorite 20 Hilarious Instagram Street Posters.
1. No Loud Radios
Talk about First World Problems! The Bella Vista Town Watch is on the hunt for evildoers, who play their radios too loud. If they catch you, look out! This image from Instagram user trythisagain has a distinct "get off my lawn" charm to it that we can't help but love.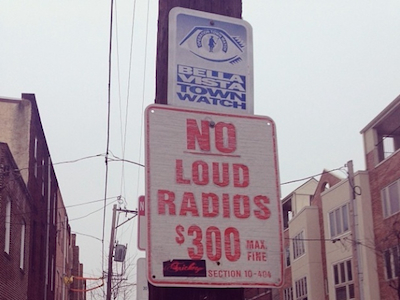 2. Cat Found
We really hope this poster from Instagram user drrockso27 is a hoax because if it's not, then someone seriously needs to take some zoology courses. With all the stupidity that goes down each and every day among the human race, we honestly wouldn't be surprised if this was the real deal.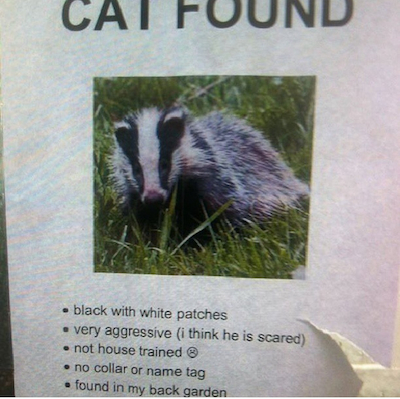 3. Klaus
Instagram user drrockso27 scores again with another hilarious animal poster. This time around, we're introduced to the missing dog Klaus. Along with an uproarious mugshot, we find out just what kind of a dog that Klaus is. By the end, the owner's had a change of heart. (And who can blame him?)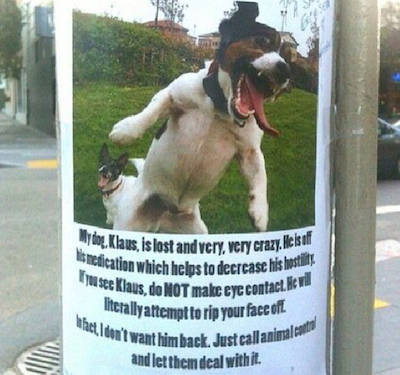 4. Lost White Cat
Biting social satire that deals with the state of race relations between Blacks and Whites – not something you would expect to see from a routine road sign arrangement. However, that's just what Instagram user ariel_bethany captures with this white cat-black cat mashup.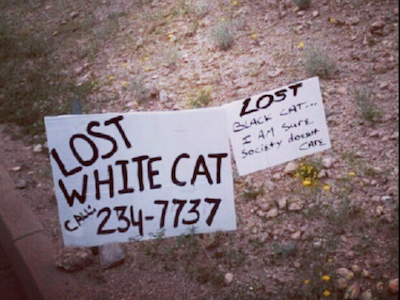 5. No Questions Asked
Want a cool way to build your social media following? Try something creative like atanenhaus did with her missing FAQ. Not only is this a clever play on words, but it's also a welcome bit of old school marketing dropped right in the middle of the digital age. At the bottom of the sheet, you can see the carefully arranged tear trips that make it difficult to forget the handle next time you're on Twitter or Instagram.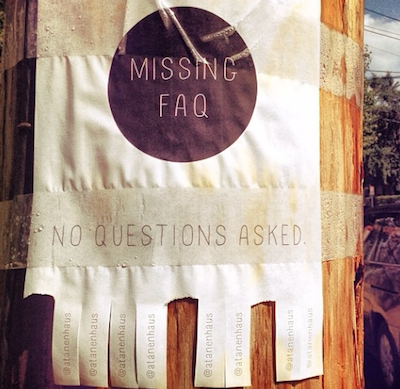 6. Peaches Was Delish
It's always a little sad when someone has fun at the expense of a missing animal. After all, pet owners treat their little ones like a part of the family. Still, if you're not the pet owner in question here, it's hard not to laugh at this contribution from mediawyse (with a little assistance from Coyote, of course).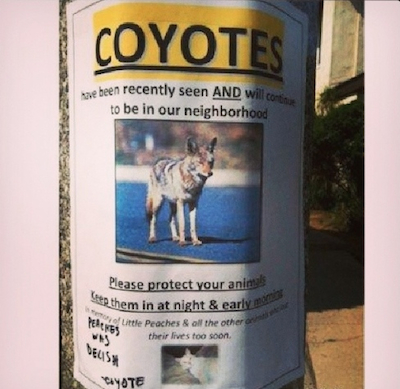 7. Thank You for Noticing
Instagram user plasticlily didn't seem too amused with this offering, presumably from a local government body, pointing out, "This is where my taxes go." However, it's a bit more of a creative way of delivering a basic No Trespassing message. Only problem: we're not sure actual trespassers would pick up on the message behind the snark.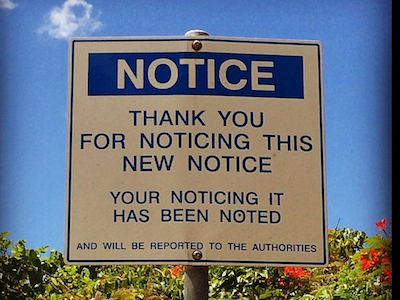 8. Missing Helicopter
Who loses a helicopter? Instagram user guybrarianesque spotted this sign on a night out, and it definitely causes one to do a double-take. While we would suggest the user specify they're looking for a toy helicopter, we do appreciate the dramatics.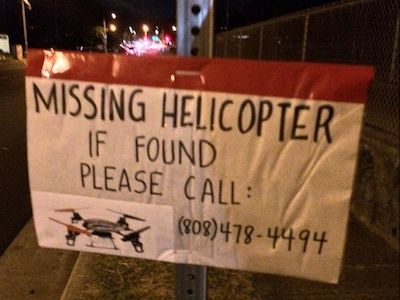 9. Right Lane Must…
User cummins_girl1990 scrutinizes this road sign that appears to have gotten away from the Highway Department. Let's just hope that no one takes the printed instructions literally, or else there's going to be a lot of right lefting going on, whatever that means.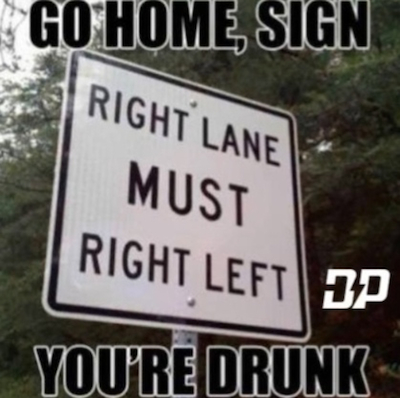 10. Espresso and Kittens
Are you a parent that sometimes plays a little "fast and loose" with minding their children? User karinaliatiderman has the perfect object lesson so that maybe you'll be a little more considerate next time. We're betting that this is one coffee shop where the little ones are under constant supervision.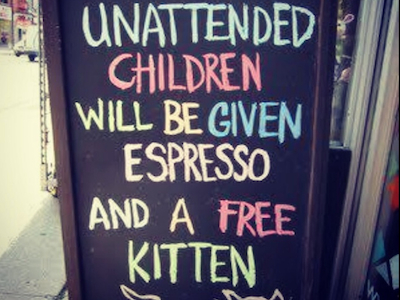 11. Innocent Grapes
Okay, kriswine, if you say so, we'll drop by for a glass or two. Nothing works better at goading wine lovers into ordering a drink than playing the emotional angle. At least this is one guilt trip that we can actually enjoy.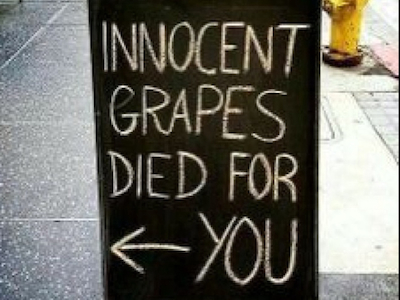 12. Slow Children Ahead
Angelo Carchesio reminds drivers of the importance of punctuation with this funny-bone tickler spotted on a roadside and posted in December 2013. "Slow Children Ahead" and "Slow. Children Ahead," have two distinct meanings. Either way, we suggest dropping the needle on your odometer a few ticks.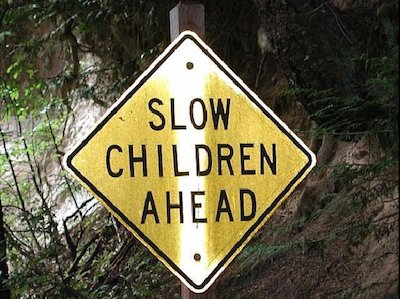 13. Rudolph
This contribution from Lauri Yates reminds us just how awesome vandals can be sometimes. Like our No. 12 offering, this one was posted in December 2013, an appropriate time given the season and the common knowledge that Santa Claus and his faithful reindeer are making a lot of house calls around this time.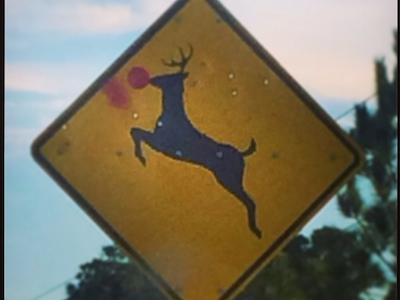 14. Red Bull Wings
The vandals are at it again with this bit of free advertising for the energy drink-maker Red Bull. Of course, it also appears that they may have had a little help from the ice and snow. Nice reminder of what Red Bull can do for you, regardless. Hat tip to user Rob Arnold for sharing.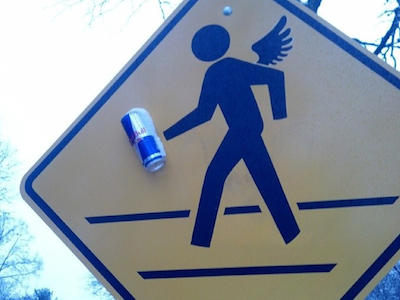 15. Lost Unicorn
This offering from comedian Mac Putman, going by the handle cobra_heart says about all that needs saying, and we couldn't agree more. Seriously, if you spot this critter out and about, seek help.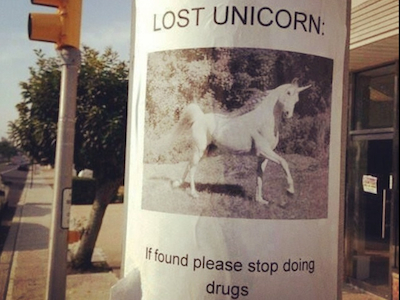 16. Let Us Trim Your Hair
The modernmalebarbershop tapped in to a reality that most married men have faced in their lives. While trying to save a few bucks, you let your non-barber/beautician wife have a go at your hair. Big mistake, unless you enjoy walking around lop-sided. Given that this was released around the holidays, we're also giving extra credit for the holiday spirit.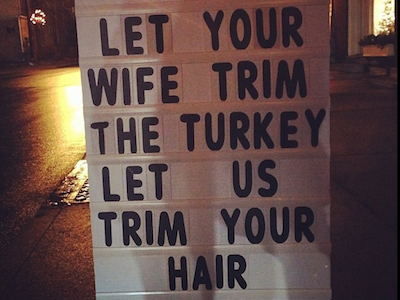 17. Potholes
This sign, shared by masteroftheunivers takes a specific, Three Stooges-esque approach to bicycle safety. While we would feel terribly for any rider, who finds himself acting out this situation, it does make for a rather humorous warning.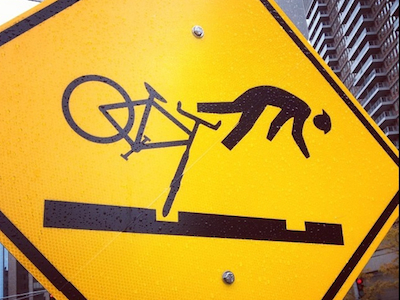 18. Have You Seen This Cat?
This addition from dragonthebomb18 plays with the common convention of posting street signs in search of missing pets. Luckily, things turn out okay for this owner by the time the punchline rolls around, and we get a good laugh in the process. For the uncensored version, you can click here.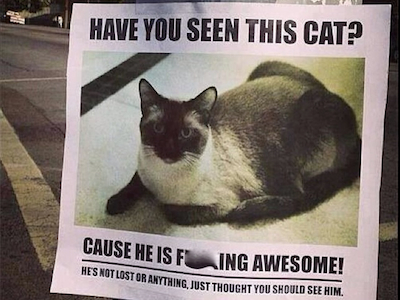 19. Walken's Only
Clinic? Hair salon? We're not sure. Instagram user Alexander Butler doesn't say – only that you can find this little number in downtown Calgary. And seriously, while we're on the subject, who doesn't need a little more Christopher Walken in their lives?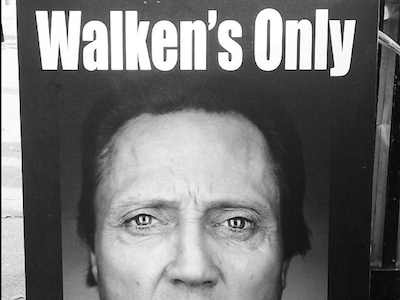 20. Drunk People Crossing
Instagram user jhonbenjie picked up this shot while visiting Thailand. Certainly one of the more interesting safety crossing signs that we've seen. We're assuming that if you want a few drinks out, this is the section of town where you want to be.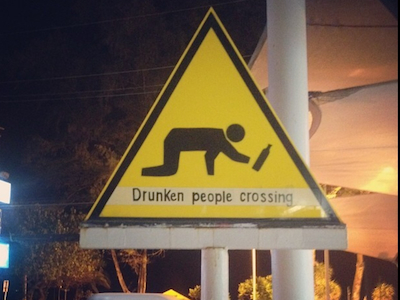 Which of these hilarious Instagram street posters caught you off-guard, and what should we here at Discount Displays have included on the list? Share your thoughts below!