Around this time of year many heated debates are had in the Discount Displays office over who has the best Christmas window display this year. Being based near London we get to see some excellent festive window displays first hand, but we've asked our team to scour the web and put forward their favourite Christmas window displays for 2014.
With the latest data from research agency Shoppercentric revealing that 19% of respondents saying a Christmas window display has triggered them to make a purchase, it seems that putting in the effort to create an eye catching window display for Christmas is a wise investment. Combine this with exposure on social media channels for displays that capture the imagination, and you can see why each year we are getting more extravagant offerings from the big players of retail.
So, if you're looking for inspiration for your own business window display or simply after some Christmas cheer, put on your favourite festive songs and feast on our favourite holiday window displays of 2014.
Selfridges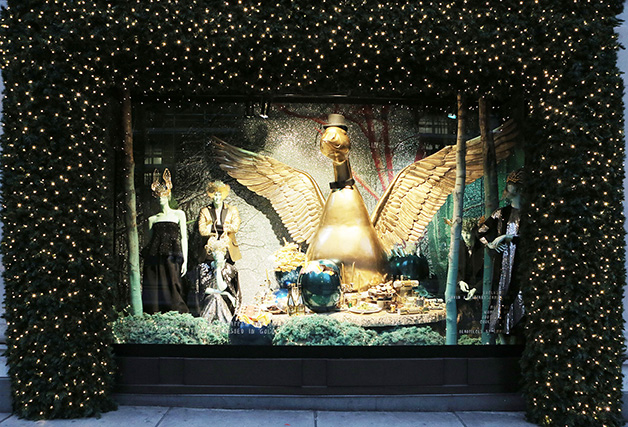 From the London store on Oxford street, this year Selfridges theme was storytelling, and they have put their own twist on favourites such as Rumpelstiltskin, Cinderella and Sleeping Beauty. With 25 windows to choose from we have highlighted the Golden Goose window as pictured above.
Selfridges caused a stir by unveiling their Christmas window display in October this year, but we think they've managed to capture the essence of storytelling with elegant simplicity.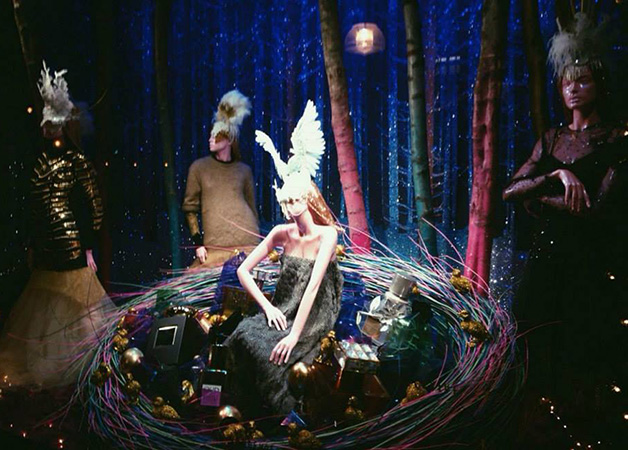 Harrods
This year the Knightsbridge store has packaged their window displays under 'The Land of Make Believe' to create a fantasy winter tale using bespoke items by renowned designers combined with vintage toys. Highlights include a rotating ballerina wearing a bespoke Swarovski crystal embellished dress by Zuhair Murad, inside a music box created by furniture designer Amy Somerville (pictured above). Images via Harrods.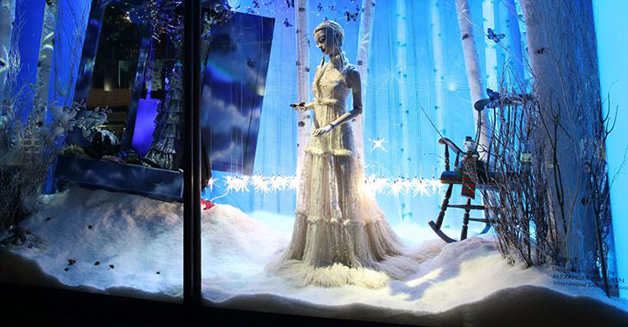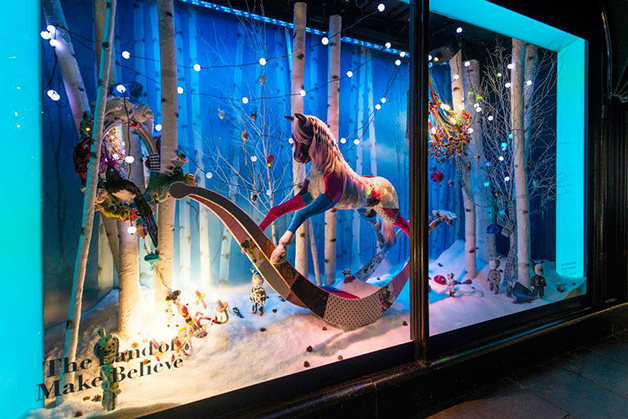 Harvey Nichols
'If you go down to the woods today, you're sure of a big suprise' is the message from Harvey Nichols with their enchanted forest themed Christmas window display for 2014. The displays feature woodland creatures dressed in clothes from leading fashion houses and the 8 stores used over 27,000 metres of internal lighting in total to create these eye catching displays. Images via Harvey Nichols.
Janet Wardley, head of display at Harvey Nichols for the past 18 years has shared her vision by saying:
This Christmas we wanted to create an atmosphere that was instantly recognisable and spoke to all ages; we wanted to bring to life a fairytale landscape that makes you immerse yourself into the magic. The display is three-dimensional, creating the illusion of standing on the forest edge, which will entice you to look deeper into the woods.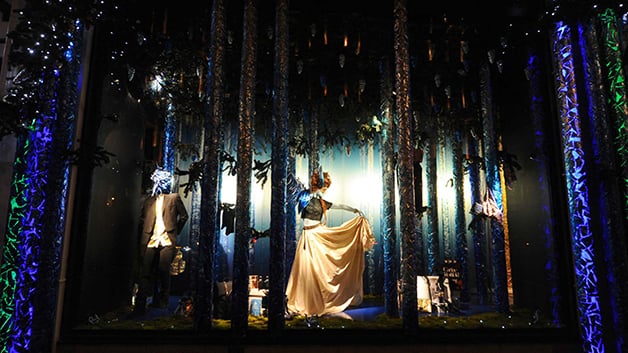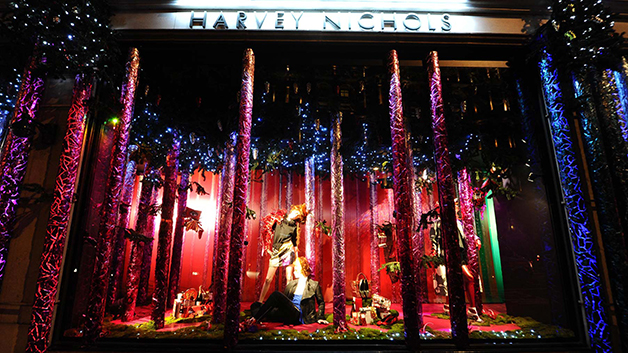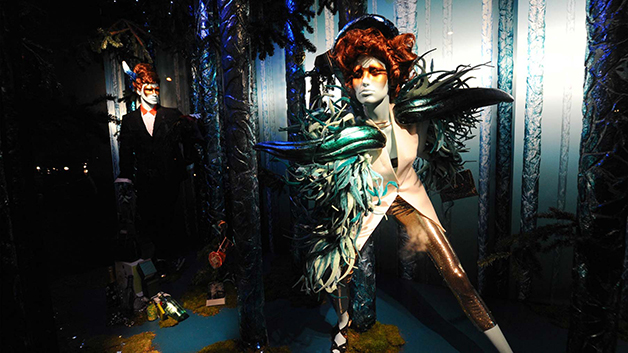 Fenwicks
Always a favourite, the Newcastle based department store never fails to impress and this year is no exception. The Alice in Wonderland themed window display featured animations and the launch included live performers and fake snow. Images via Fenwicks.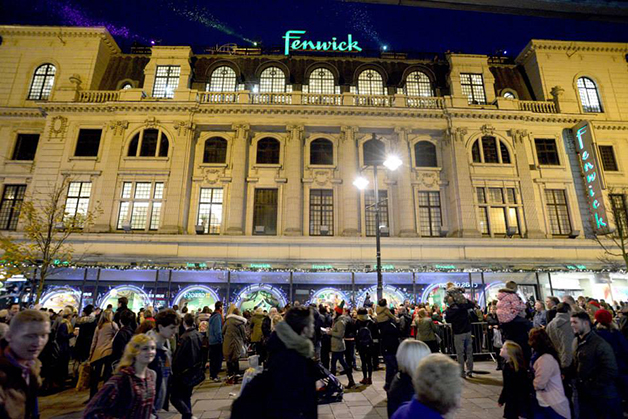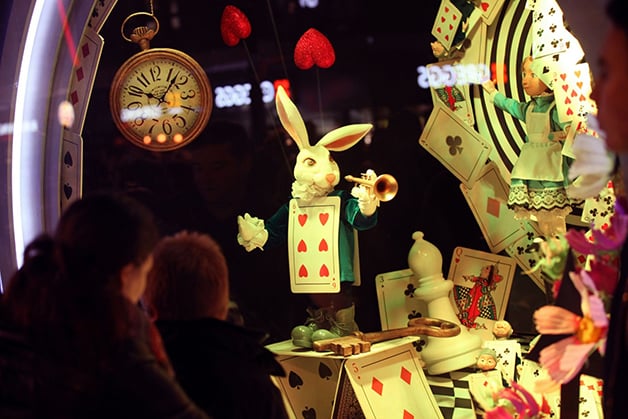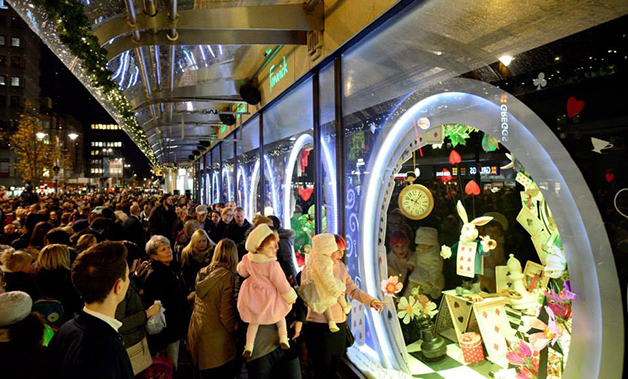 Printemps & Burberry
The British fashion house has teamed up with the Parisian store to create an interactive Christmas story that enables passers-by to use their smartphones to engage with the scenes in the window and access extra content. The display tells the story of a boy and his teddy bear braving the journey across the channel. Images via Printemps.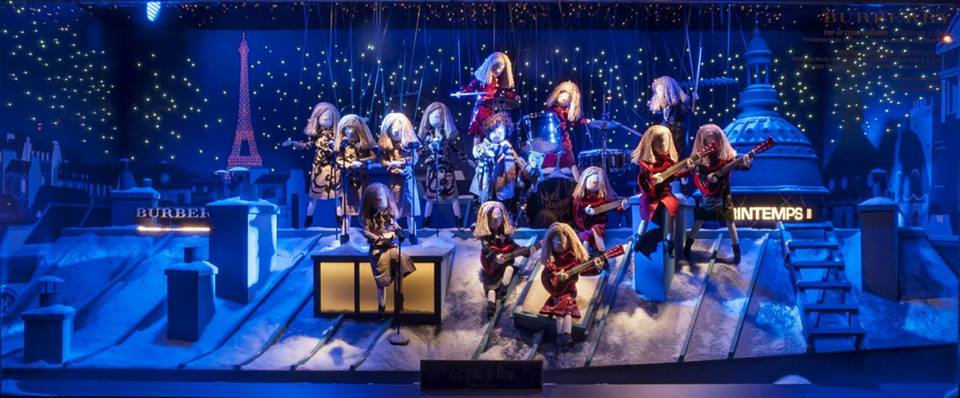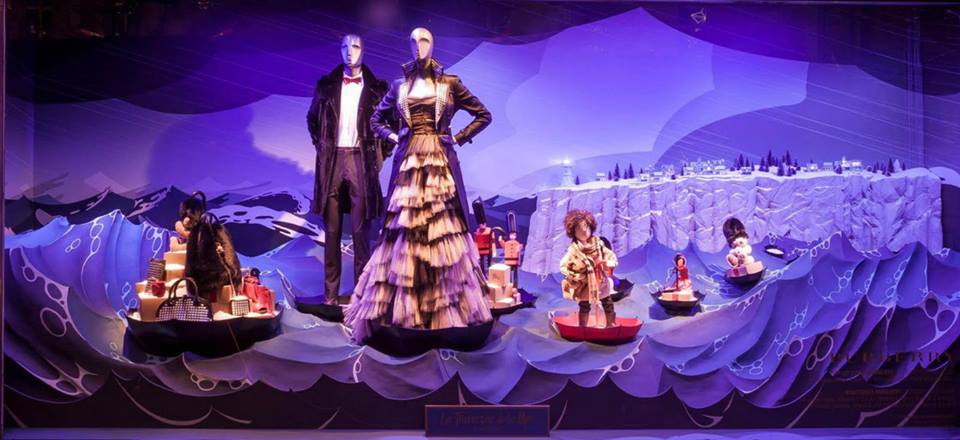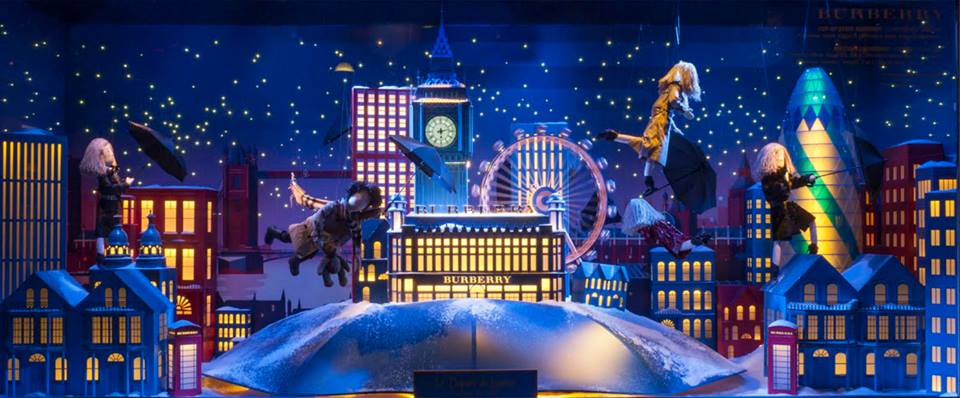 Barneys
The New York store has scored a major coup with acclaimed director Baz Luhrmann and costumer designer wife Catherine Martin coming on board to create a display called Baz Dazzled. As to be expected the display features extravagant set pieces and surreal twists on traditional imagery.
From the very early days of our love affair with New York, Barneys has always been, for us, one of the city's iconic destinations," Luhrmann and Martin said. "Perhaps this is because the Barneys aesthetic is somewhat similar to our own—taking the traditional and turning it a little on its head. Of course, there is the honor of being asked to join the ranks of the previous collaborators, but really in the end it is about living, creating, and being part of the fabric of New York City.
Images don't do this masterpiece justice so take a look at the following themed window videos below.
If you're looking to create your own window display then you can explore our range of window graphics online with instant price calculators.
See how this years selection of Christmas window displays compare to last years in our best Christmas window displays of 2013.