Modular Display Systems is a brand new site which has launched this week, specialising in modular display stands and exhibition systems, just in time for businesses to order a brand new exhibition stand ahead of the busy Christmas season. The months leading up to Christmas are traditionally the busiest times for exhibitions, as businesses seek new services and products to improve their own standings in the festive rush. Now businesses can stand out from the crowd with a sleek modular display stand that incorporates all of the graphics within a contemporary, cutting-edge display system.
The bulk of their exhibition display stands offer businesses an all-encompassing solution for their exhibitions, with graphics taken care of, additional furniture such as chairs and counters, integrated media stands and a range of literature holders to create the complete exhibition kit. They provide a 3d design service to help clients to understand every angle of their stand, and modular kits are completely customisable to meet the clients' needs at every step of the way.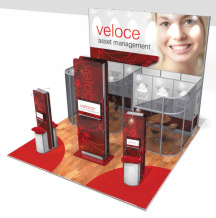 The complex modular display kits available from Modular Display Systems are imposing and majestic, with some even boasting an extra storey above the main meeting area. There are seating areas for closing deals, huge integrated media screens to emphasise a brand message, and they all come with complete lighting solutions and all the accessories needed to make an impact at an exhibition ahead of Christmas.
Modular systems save companies the hassle of comparing prices for graphics, stands, lighting and other equipment across a range of different providers, offering the complete package for a more accessible, reasonable price. They are generally very simple to install, often requiring no complex or powerful tools, and they are light and compact enough to be transported to different locations with ease; perfect for those hitting the exhibition trail hard before Christmas really kicks in. Many of the stands can also be reconfigured or altered; if a certain trade show is offering smaller exhibition spaces for businesses, the stands can be adjusted to fit, with certain graphics removed or elements taken out. Likewise, the stands can be expanded to fit larger spaces, commanding the environment and creating a professional, imposing look for the business.
In the next few months, businesses will be preparing their strategy and their important equipment ahead of the Christmas season, and having a modular stand like this will take a load off many minds. The complete set removes the need to worry about matching graphics with stands, and the professional appearance of the stands will set businesses in good stead to compete with their direct rivals at many of the upcoming festive events.