The Internet is so filled with great marketing ideas that it can be a challenge building a quality resource list and not missing anything vital to future efforts. That's why we've culled together some of the best sites on the web we personally use to keep abreast of the latest industry news, research content ideas, conduct market research, and much more. So without further ado, here are our picks for the 18 Marketing Sites Every Business Should Bookmark.
Industry News
1. Marketing Magazine
This UK-based website offers all the latest news and insight on marketing trends and developments, across both the UK and the globe. This essential hub for the professional marketer contains daily articles on advertising, PR, media, and big data as well. No matter what field you're in, you want to stay informed about what's happening in the industry, and it's pretty much a given that you will be if MM is a daily destination.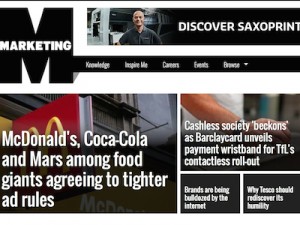 2. The Drum
Another great site for industry news and information, The Drum was recently voted the PPA Independent Publisher Awards' Media Brand of the Year. Here, you'll get opinions, profiles, and news stories on all things marketing from advertising to creative to digital, social media, and beyond. You'll also appreciate the job board, which is followed and respected by more than 100,000 followers on Twitter. If you're trying to break in to the marketing industry or if you've hit the glass ceiling and are ready to challenge yourself beyond your current job, this is the place to be.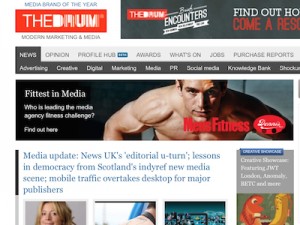 3. Mashable: Marketing
The famous tech site Mashable has put together an excellent hub for current events in the world of marketing, with all the latest steps (and missteps) from companies large and small. Check out features such as the 10 Best-Kept Secrets In The Business World or the 7 Sins of Social Media Marketing to stay at the top of your game. This specific hub features close to 5,000 stories and updates daily.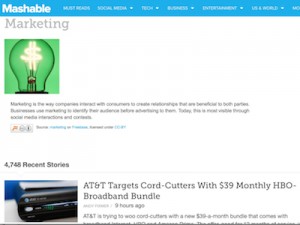 Content Creation
4. CopyBlogger
Even with the influx of video and audio content, words still matter, and at CopyBlogger, online marketers have an essential resource for how to draw eyeballs to their site and products. CopyBlogger was started by copywriter Brian Clark. Over the years, it has grown to an essential destination for every entrepreneur and small business owner looking to convert their readers into customers. It's gotten to the point of success it's now at thanks to Clark and other helping hands like Jerod Morris. Also, The Lede, a seasonal podcast, is essential to any online marketer's toolbox.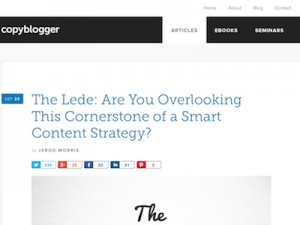 5. ProBlogger.net
Darren Rowse has been a blogging kingpin almost since the dawn of the Internet. Over the years, he's churned out some compelling copy, and is probably the first guy ever who showed how lucrative a blog can be. Even if it isn't your direct moneymaker, you can use it to build an audience and monetize products and ideas. Best of all, you can do it for almost zero investment. Rowse has grown his followers to 66,000+. His job board is also one of the most reputable in the industry.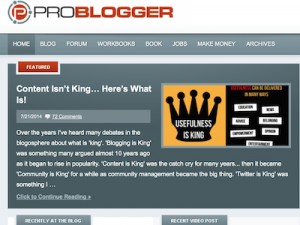 6. BuzzSumo
BuzzSumo is a vital content creation tool because it allows you to search by domain, keyword, or topic, instantly spitting out top results with details on how many social media shares each piece of content has received. It breaks it down by each of the social networks and gives an overall, so you can see the types of content that are performing well within a given subject area. It also allows you to save searches and see who the top influencers are per query.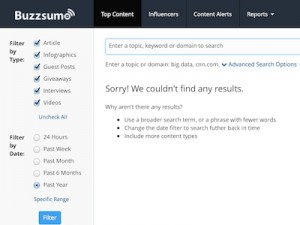 7. Ubersuggest
Ubersuggest bills itself as "suggest on steroids," and that's easy to believe once you give it a test drive. Unlike Tweak Your Biz, this site won't generate a whole title, but it will use web and news results to give you much more specific keyword recommendations based off the entry of a simple keyword or keyword phrase. Ubersuggest is invaluable if you incorporate a lot of current events in your marketing efforts.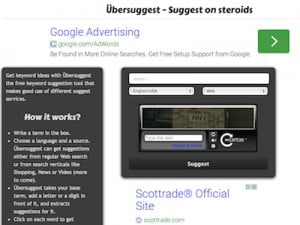 Generating Business Ideas
8. Income School
This site started by online marketer Jim Harmer specializes in helping people launch a site from scratch and successfully monetize it in about four months. What initially drew us to Income School was the podcast, but from there, it was Jim's generosity in "giving it all away for free." One of the hardest parts of marketing a business online is knowing whether the idea is worth your time. Jim helps out there with his work-in-progress 50 Niche Site Ideas Ripe For The Taking, wherein he does a market analysis on 50 ideas that would make for profitable online businesses. He's up to 26 at the time of this post.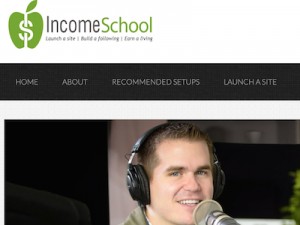 9. Smart Passive Income
Pat Flynn of the Smart Passive Income blog and podcast refers to himself as the "crash test dummy" of online business. His newsletter features more than 75,000 subscribers, and he shares a lot of tips, for free, on his website regarding blogging, affiliate marketing, social media, and podcasting. (Seriously, his tips on podcasting alone are worth the visit.) What you'll appreciate about Pat is that he's pretty open and honest about making a living online, telling you upfront that it isn't easy and requires an expenditure of time. Understand that from the beginning, and you won't be disappointed when you get into the work part of it.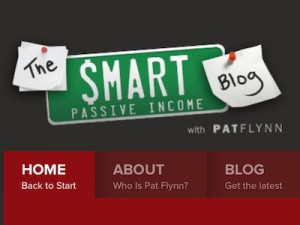 Marketing Outreach
10. Convert with Content
Jason Clegg, the self-professed "Content King," lives up to the moniker with some pretty invaluable free posts. The one that made believers out of us — 60+ Niche Social Networks Marketers Should Know About. While Twitter, Facebook, and Google+ can be highly beneficial to one's marketing efforts, specialty networks are where you're destined to find the most enthusiastic people for a given niche. In Clegg's master list, he shares networks that specialize in everything from cat-lovers to lawyers and the legal community.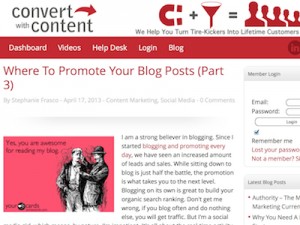 11. Marketing Donut
The UK-based Marketing Do-nut offers great insight into many aspects of starting and promoting your business, including popular posts on how to buy mailing lists that are worth the investment, how to use content marketing effectively, and how to develop new products that will keep you at the forefront of your industry. The site's ongoing "Expert Advice" feature is another favorite among readers.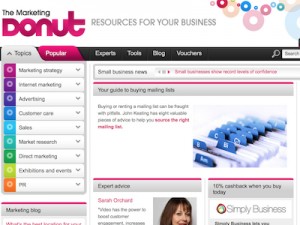 Online Communities
12. The Warrior Forum
The Warrior Forum is one of the most successful — and most importantly, frequently updated — online communities for the professional marketer. Not a day goes by when someone doesn't start a discussion that can help you with your business. There are categories for search engine optimization, ad networks, pay per click/search engine marketing, email marketing, and much, much more. You can also benefit from the use of private forums and set day-and-date for local meet ups and other Warrior Events.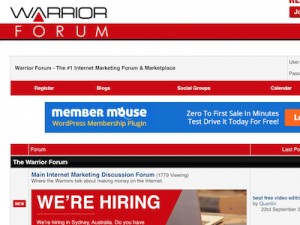 13. Webmaster World
Webmaster World joins The Warrior Forum as one of the best organized and most influential marketing communities on the web. From the very first page, everything is well-organized by category as well as currency via "Hot Threads" for the week and month. At the bottom of the page, there is even a place for free tools including a keyword finder, YouTube reputation search, and various web design tools.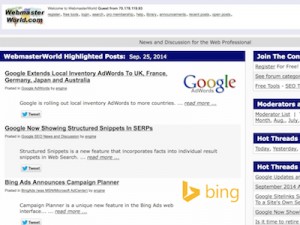 Crowdfunding Resources
14. Entrepreneur: Crowdfunding
While it's only a portion of the entire Entrepreneur website, it's quite a valuable part. If you want some practical insider tips on how to set up a Kickstarter or Indiegogo project that succeeds, then this is the place to be. Current articles include an interview with the man behind the Coolest Cooler, Kickstarter's highest grossing project of all time, as well as an in-depth piece on Indiegogo's new pilot program that allows project creators to leave their campaigns open indefinitely. Highly recommended!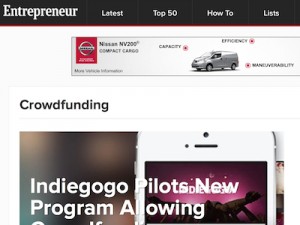 15. Kickstarter
If crowdfunding is where you want to be, then you have to at least consider Kickstarter. It's the most widely used from both a project creator and a donor standpoint. While it may not fit every project, it does give you the best chance of finding your audience and getting the startup capital for whatever it is you have in mind. Kickstarter takes about 5 percent of your overall gross, so keep that in mind as you set a funding goal.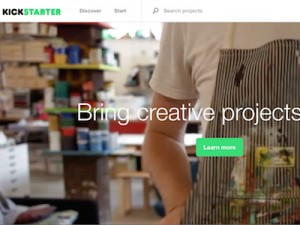 16. Indiegogo
If you're doing a crowdfunding project and you're not using Kickstarter, then this is your last best hope. Yes, you might be able to utilize GoFundMe or a specialty crowdfunding platform — there is actually one devoted to nothing but T-shirt ideas — but Indiegogo is, behind Kickstarter, the biggest audience. Indiegogo has pioneered the indefinite project page so you can make your crowdfunding campaign an ongoing thing. They take about the same cut as Kickstarter, and also give you the flexible funding option where you don't have to reach a specific funding goal to receive donor pledges.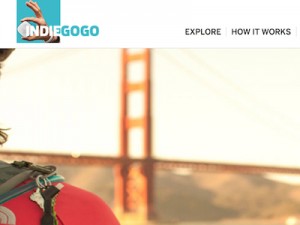 Marketing Tools
17. The Chartered Institute Of Marketing
One of the best tools on the web for coming up with your very own marketing plan is the free and fantastic generator from CIM here in the UK. The site walks you through your marketing plan from mission statement to SWOT analysis to final strategies in an easy-to-digest 20-page worksheet. By the time you work through it, you'll not only have a clearer understanding of your core objectives, but you'll have some practical ideas for how to find and reach your audience. Definitely worth your time, and it's free!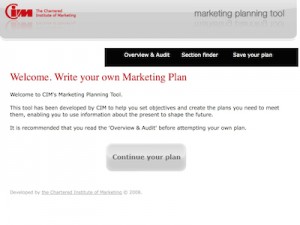 18. SEO Chat Tools
The Free Tools Beta at SEO Chat features a staggering number of resources for any serious site owner. The SEO tools alone are worth your time, but there are also tools for social media integration, schema.org, PPC, web-masters, web designers, and more. Last but not least, if you have any questions, be sure to drop by the forums at the bottom of the page.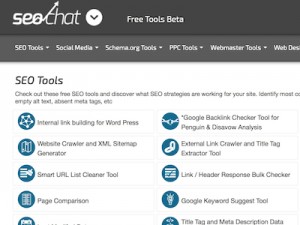 The web is a big place. Inevitably there are more sites out there worth a look but this is a list of the sites were use ourselves here at Discount Displays. What have you found helpful in your marketing efforts, and what particular feature(s) of the site makes it your pick? Share your thoughts with us in the comments below.