With the announcement that non-essential shops will be able to reopen on the 15th of June, now is the perfect time to order your social distancing displays to ensure that you meet the regulations.
We've put together a guide to a few products that are perfect with helping you to social distance at work and reduce the spread of Coronavirus.
Pavement Signs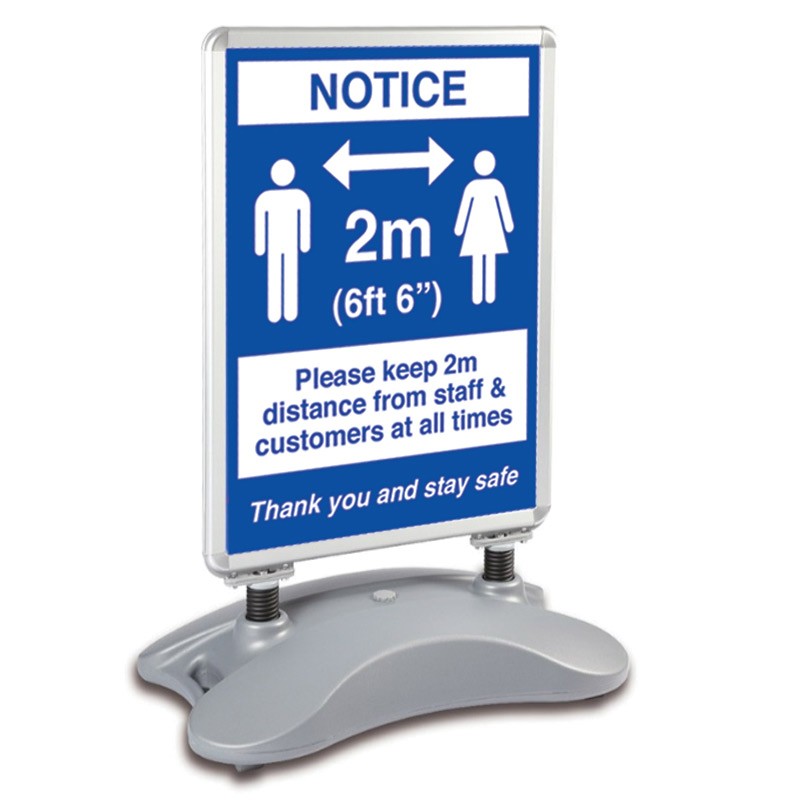 Our Coronavirus Pavement signs are the perfect way to attract customers back into your store post lockdown.
These exterior signs are a great way to show your shop is open and remind customers of the social distancing rules in place.
They can also be placed outside of schools or office blocks to ensure social distancing in the workplace.
To make it quick and easy for you we have designed a range of social distancing posters for schools, retail outlets and corporate environments.
Social Distancing and Pedestrian Flow Floor Stickers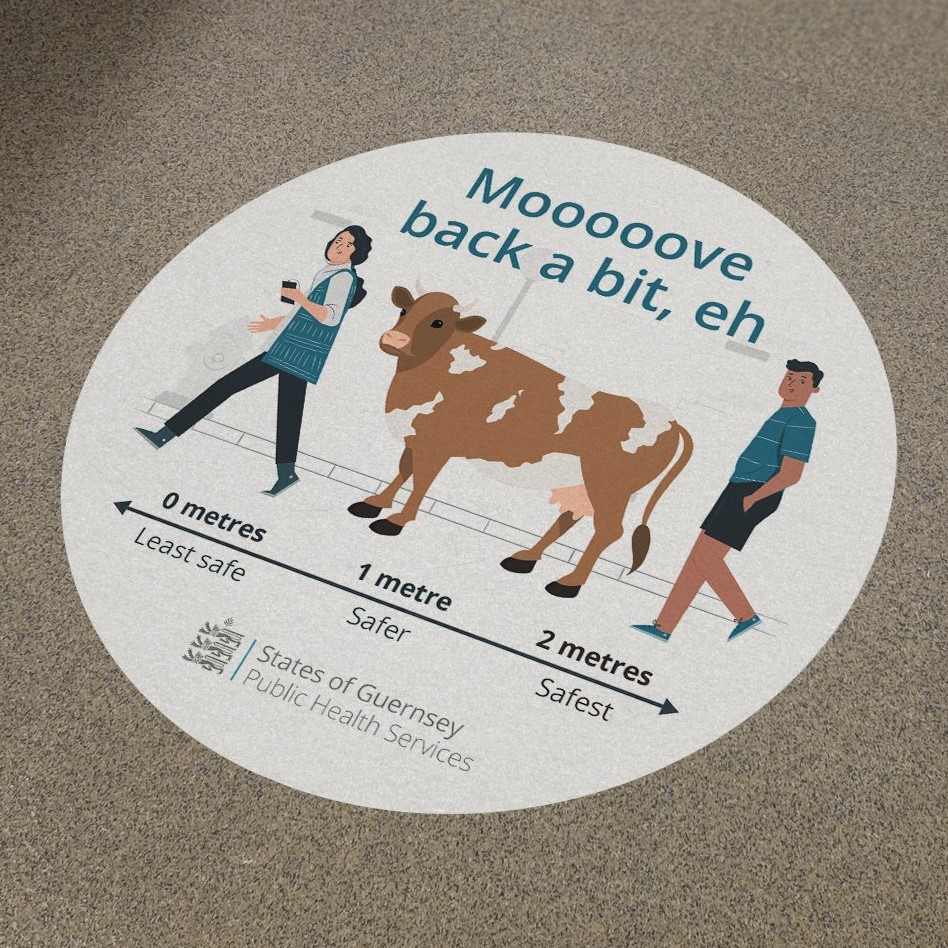 Social distancing floor stickers are a cost-effective way of distancing in any setting.
Different materials allow you to use stickers on hard floors, short pile carpet stickers or even outside on surfaces such as concrete.
Outside your store, round stickers are ideal for organising queues, whilst inside, directional arrows are a great solution for creating one-way systems to meet distancing regulations.
When choosing floor stickers make sure you specify an anti slip laminate.
If your are in a rush we have a range of pre-printed Coronavirus floor stickers in multiple styles and colours. Alternatively utilise our in-house design team for custom Covid-19 floor stickers.
Bollard Covers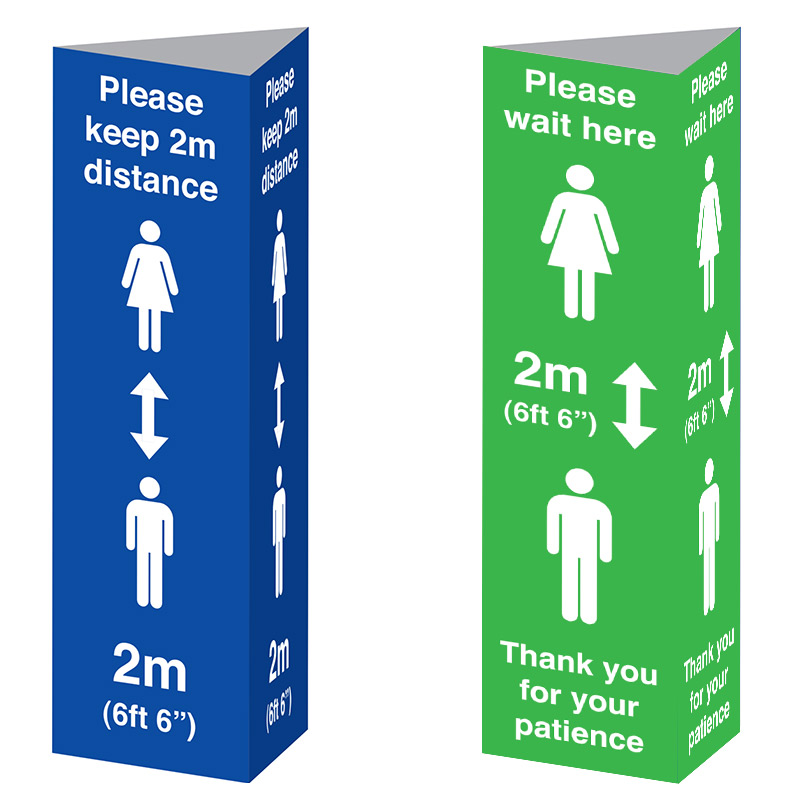 Bollard covers are often seen outside petrol stations and on retail parks. They are a simple and cost effective way of communication.
Popular in the past we now offer a couple of COVID designs to remind your customers to stay alert and follow social distancing rules.
Ideal for supermarkets etc
Remind customers before they enter the store
Acrylic Social Distancing Screen Dividers and Sneeze Screens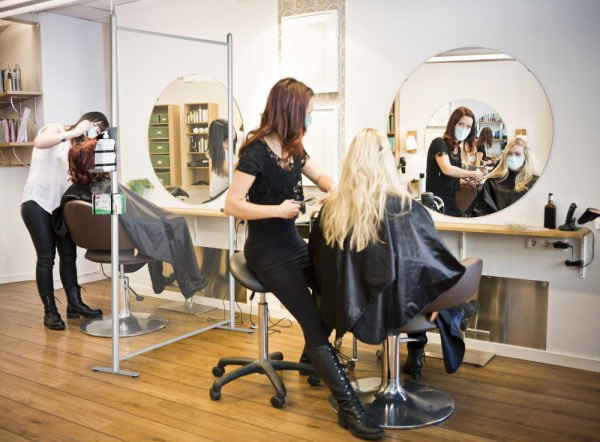 There has been a lot in the news about airborne spread of coronavirus. To combat this there are many types of, what have started to be called, sneeze guards. By creating a physical barrier they can protect your staff and customers.
Options including floor-standing units that could be used, for example, to separate the bays in a hairdressers or work stations in a factory.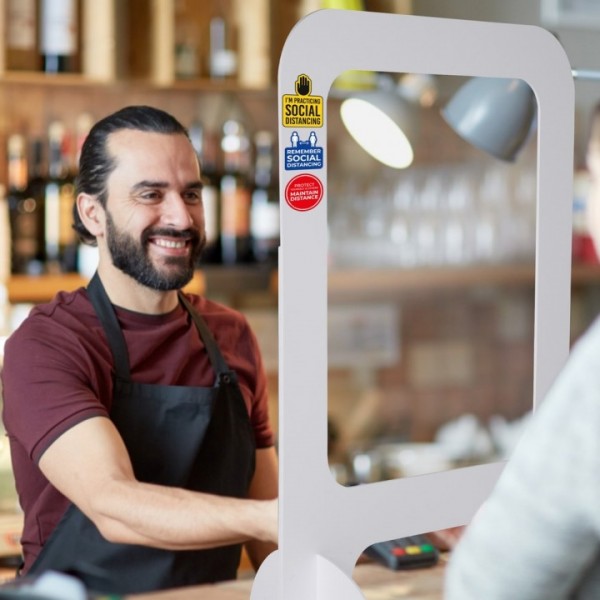 Desktop versions can be seen at checkouts in shops as well as desk partitions in offices.
A popular product is a roller banner with a clear or printed screen that conveys a message about your company work place Coronavirus policy and acts as a sneeze screen at the same time.
Here at Discount Displays we have introduced a wide range of sneeze screens to keep you safe in the workspace.
Our range includes countertop sneeze guards, perfect for retail settings or reception areas. These allow your staff protection against the spread of the virus as they return to work. These affordable solutions can also be custom printed to allow branding or messages to be displayed.
We also have a range of portable and more temporary floor standing protection screens These stands are up to 2m tall and include fully transparent windows to allow you to continue to communicate with ease, with added protection.
Hand Sanitisation Station for Hygiene Control
With hand-washing and sanitisation being one of the most effective ways of preventing the spread of COVID-19 there are a number of solutions that you can employ in your office or shop.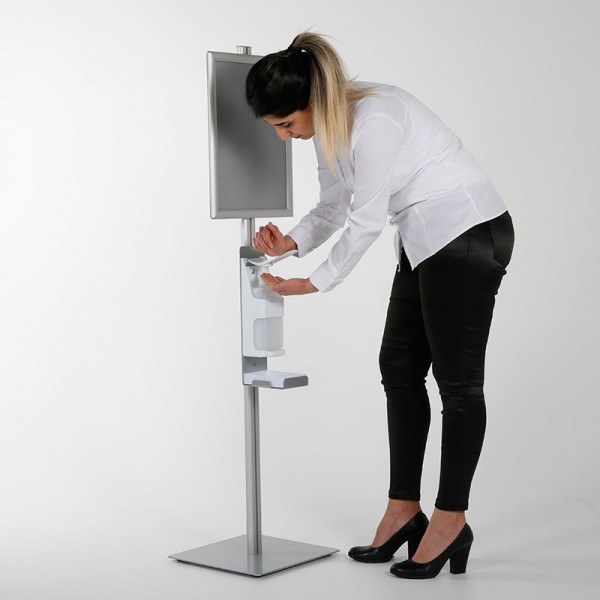 Hand washing stations are a cost-effective method that allows you to easily wash your hands when taps and soap are not available.
Simple table and table cover combinations or display counters are also cheap and effective.
Free-standing display and dispensers which also include signage options to remind people of the government safety advice can be easily placed in receptions or in entrances.
Several display take posters and to make it easy for you we have a range of pre-designed handwashing posters available to complete your display.
We also offer a full design service if you need print ready artwork to be created for you.
Retractable Barriers
Retractable barriers are the ideal solution for organising queue systems to ensure social distancing. They are flexible and can be adapted to your individual location.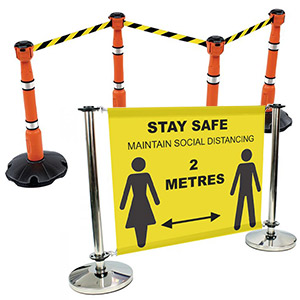 Standard free-standing barriers vary in width from 2m up to 4m with a few specialist systems extending out to 9m. The 2m versions are ideal since you get a post every 2m which help reinforce the keep 2m apart rules.
Wall mounted barriers are also popular and are perfect for cordoning off certain areas or creating one way pedestrian flow in store.
Alternatives to retractable barriers include pre-printed barrier jackets that fit over standard crowd fencing, café-barriers, fence banners and rope and post systems to organise footfall in a safe way in any environment.
Banner Stands
Banner stands are a portable solution for displaying key information in any location.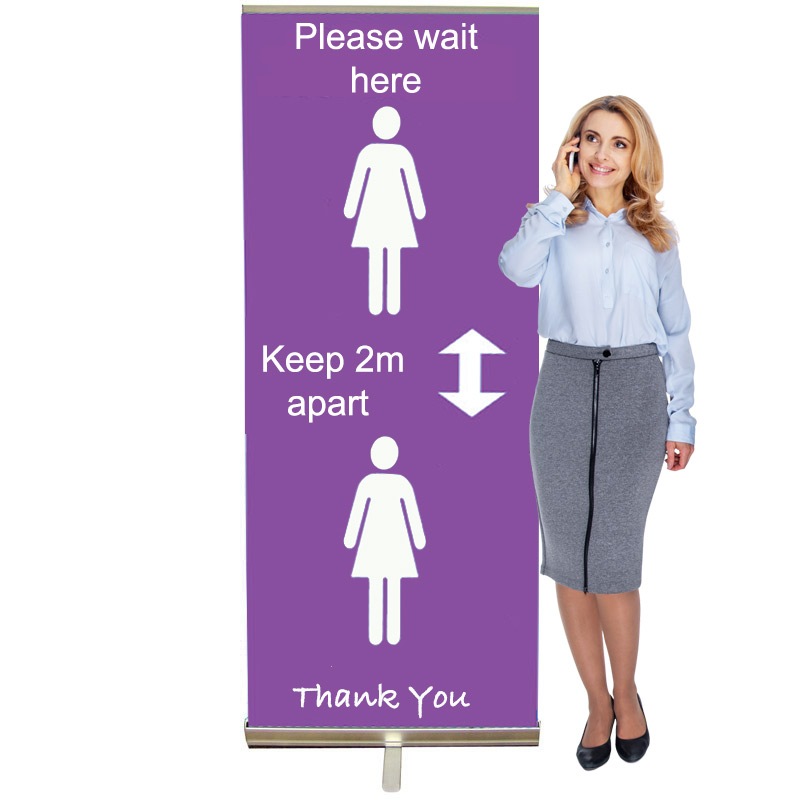 Our range of pre-designed Coronavirus banner stands provide reminders to people about distancing in any setting.
We also have NHS-provided artwork available and ready to print.
Alternatively opt for a custom printed banner stand with help from our in-house artwork team. Lightweight, portable and cost effective banner stands are a versatile solution to social distancing communication.
Coronavirus COVID-19 PVC Banners
PVC banners are another cost effective and versatile means of getting the message across. With turned edges and eyelets, social distancing banners can be hung in all sorts of ways outside schools on fences or around a building site's hoardings.
Range of pre-designed banners
2m long banners as spacing guidance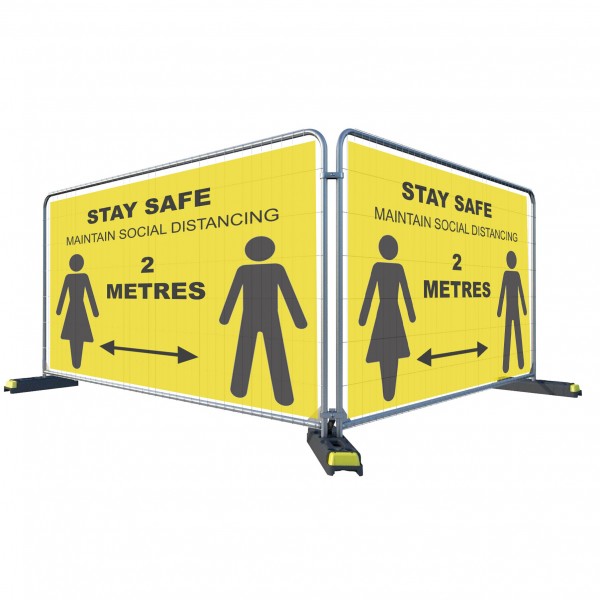 An alternative to PVC is a mesh material that allows wind to pass through so it is ideal for use on Heras fencing . We have a couple of social distancing banner designs ready to go that fit standard Heras fence panels.
Coronavirus (COVID-19) Signage
Whatever your Coronavirus Covid-19 signage needs we have you covered.
We have a range of affordable social distancing signs including pre-printed Correx sign bundles (that include) official NHS Coronavirus designs. These are perfectly complimented by our free-standing hardware to give you the flexibility to display your message in any location.
Remember to stay alert and safe to ensure your health and well-being. For more information about social distancing take a look at the government links below.
For help with your Coronavirus (Covid-19) display needs give us a call on 0844 800 1020 or email us at sales@discountdisplays.co.uk for friendly, expert advice.
General advice regarding COVID-19:
https://www.nhs.uk/conditions/coronavirus-covid-19/links-to-more-information-about-coronavirus/
Social distancing advice:
https://www.nhs.uk/conditions/coronavirus-covid-19/staying-at-home-to-avoid-getting-coronavirus/staying-at-home-and-away-from-other-people/