As far as display equipment goes, modular exhibition stands really are the business. Rather than having a number of banners or pop-ups dotted around on an allotted portion of floor space, one of these stands will give the distinct impression of something permanent. When you use a modular exhibition stand at a trade fair,
you are essentially creating a whole new environment for your visitors to explore!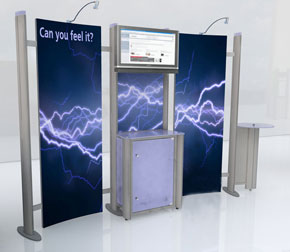 A Better Impression
Sure, they are plenty of eye-catching graphics to be seen on other, smaller types of displays, but most people will readily agree that modular exhibition stands rank far higher on the 'Impressive-ometer'. They boast a larger area to for exhibitors to utilise and their sheer size will instantly make them stand out from many adjacent displays.
A Feeling of Privacy
They may still be surrounded by hundreds of other visitors, but many people will feel far more relaxed if they are standing or sitting within a modular exhibition stand. Much of this is to do with the 'walls' which are one of the main features on this type of display. And if potential clients feel more at ease, then they are much more likely to concentrate on what you are telling them about your products…
A Feasible Option
Because modular exhibition stand kits at Discount Displays are available in a number of different layouts and sizes, there is something to suit everyone's budget. So if you thought that modular stands were specifically created for larger companies, then you would be mistaken. Just like any of our other products, we have a wide variety of modular displays to choose from–all for a very competitive price.
A Professional Appearance
If you do decide to use a modular stand for your event/s, then you will also have the option of furnishing it in a number of different ways. Here at Discount Displays we have a superb selection of modular furniture and this really will add a touch of class to your stand! From corner counters and computer pods to bar stools and zigzag tables; there are so many exciting possibilities to consider.