Exhibitions and trade fairs are some of the biggest events on the calendar for many organisations, whether they are taking an exhibition stand to the event or attending as a visitor hoping to network and gain some contacts. Here is a guide to some of the biggest, best and most interesting exhibitions coming up across a huge range of industries in 2013.
The Digital Manufacturing Show Europe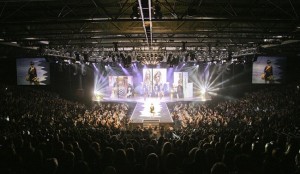 Taking place at the Business Design Centre in Islington, London, the Digital Manufacturing Show Europe is an international trade show which focuses on the very latest and most advanced technology. This year, experts in the field of digital manufacturing will gather in order to share their findings over the last year, speculate about the future of the industry and to discuss the challenges faced by the manufacturing and repair industry today. The show takes place on the 4th – 5th of June 2013 and there are still spaces for both visitors and stalls to register.
FESPA Digital Europe
A trade show specifically catering for those providing digital print services, this event doubles up as an opportunity for anyone in the industry to network and develop their business. Anyone who is anyone in the industry will be present, with brand managers, graphic designers, marketing professionals and photographers all in attendance. Sign makers are the target visitors, but the event is beneficial for anyone in the industry to make contacts and meet influential people. The exhibition takes place on the 25th – 29th June at the Excel Centre in London.
Leisure Industry Week
Taking place in September at the Birmingham National Exhibition Centre, Leisure Industry Week is the UK's largest leisure equipment event. Hundreds of exhibitors will be attending, showcasing their collections of fitness equipment, organic health products and promoting their leisure services. More than 300 suppliers will be in attendance, not just from the UK but from all over the globe, with 150 seminars from experts over the course of the week and countless chances to meet some of the biggest names in leisure equipment.
Clothes Show Live
Also taking place at the Birmingham National Exhibition Centre, the 5-day fashion and beauty extravaganza is one of the highlights on the calendar for dozens of associated industries. This high-profile event features catwalk shows introduced by celebrities, influential designer guests, 500 brands, 5 demonstration stages and a plethora of opportunities to get acquainted with exciting new names in fashion and beauty. Clothes Show Live is a fully interactive event, with a multitude of people posting updates on social networks, and plenty of column inches in the news, so bagging a stall at this event ensures maximum levels of coverage and a huge number of guaranteed visitors.