A recent study found that 48% of shoppers would prefer to use independent retailers rather than chain equivalents.
Let's allow that to sink in for a moment.
Nearly half of all shoppers would choose an independent retailer over a multi-national corporation.
That's potentially huge information for anyone in the retail sector. Especially given the concerns around retail and the High Street at the moment, the finding that consumers are starting to move back toward small business has the potential to be a very exciting new opportunity.
Savvy business owners will no doubt be looking to capitalise on this wherever possible. Here, we'll explore what 'independence' means and how to use brand to attract and convert more customers.
What does 'independence' really mean?
So independence is an attractive feature in consumer decision making. But what does being 'independent' really mean?
Technically speaking, this is all about being an individual entity, not part of a corporate umbrella brand. But practically speaking, independence is so much more.
We asked retail experts to tell us what 'independence' looks like to them, and here are a few of their responses:
Independent often means different things to different people. To me it's free of the shackles that the big corps impose at a store level. From flavours, pricing, provenance, promotions, packaging to tone of voice.

Jane Arthern, food retail expert, www.fmcgenie.com

We have seen a growing mistrust, with indies filling the demand for transparency.

Charlotte, independent app owner, https://skinninja.com/

As consumers make more informed buying decisions, it is clear that they aren't just buying a product or service. They want to buy into a story telling of humble beginnings, supporting individuals just like them who they can relate to. Shopping independently is investing into that person, or persons, and the ambitious independent mark they are leaving on the world.

Rachel Watkyn, managing director for Dragons' Den winning business Tiny Box Company
It seems that 'independence' is therefore far more than simply being an independent business; it's about the positioning and perception, and building a brand that resonates with its target audience.
How can retail brands harness the power of 'independence'?
The rise of independent brands has opened doors for those brands (and non-indies, too) to showcase more personality than ever before. In a retail environment where purchase decisions are being made on the basis of resonance with a brand and its values, communication of those things is more important than ever.
1) Agreement of brand
The most visual manifestation of brand is usually achieved through design. Consider the following logos:

What these logos have in common is:
a) They're synonymous with their brand (it's likely you recognise the first to be Apple, the second Innocent and the third Tesla)
b) They communicate their brand with exemplary clarity; Apple is all about simplicity, as shown by its simple design, Innocent is positioned as friendly and approachable as shown by the soft edges and face design, and Tesla is about being cutting edge as shown by the sharpness and use of the overseeing top line
2) Consistency of brand
With the brand logo chosen, the next step to communication of a business' independence lies in the consistency of that brand across all marketing materials, whether that's the roller banners they use to promote their latest offering or a social media post like this really fun one from Innocent.
3) Extrapolation of brand
This is where we start to think bigger – and where independent retailers can really start to excel.
In large multi-national businesses, brand can sometimes be confined by central 'rules'. These are, of course, essential to consistency. But at the same time, being able to flex that brand to the audience and context is one of the things that differentiates independents from their owned counterparts.
This means knowing what the brand stands for beyond what it actually sells, and how that relates to its target audience. Innocent does this well by tying into topically relevant themes that support their brand values – the promotion of National Penguin Awareness Day being an example: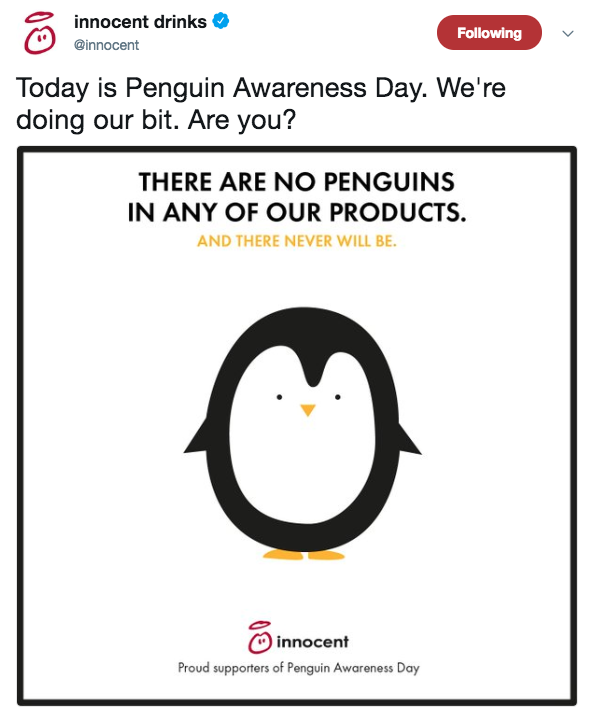 Those independents that are able to flex their brand to incorporate themes that relate to their audience will be more successful when it comes to building rapport. While larger owned businesses may struggle to be this agile, independent businesses make use of even really simple techniques like chalk-boarding to capitalise on local stories or fun brand quips.
Do you run an independent business? Let us know what you think of the role of independents in the comments below.