Mesh Banner Trade Printing
Quantity
Price per sqm (add £1sqm for trimmed - add £1.5sqm for hem & eyelets)
Up to 2 sqm
Prices from £16
2+ sqm
Prices from £13.5
5+ sqm
Prices from £12
10+ sqm
Prices from £11.5
20+ sqm
Prices from £11
50+ sqm
Prices from £10.5
100+ sqm
Request a quote
Read More
Get An Instant Price - Includes Size and Quantity Discounts
Key Features:
Mesh wind resistant, weather proof outdoor banner material
Printed using fade resistant eco friendly inks
Strong 355gsm nylon reinforced mesh PVC
Fire retardant to B1
Finishing options include; hemmed & eyeletted, trimmed edges or supplied on a roll
Exclusive prices for trade accounts only
Delivered under plain cover
Want a FREE sample? Click here or call 020 3876 6798
Please ensure artwork is print ready
Mesh is a perforated 355gsm PVC banner material allowing some of the wind to pass through the banner. This reduces reducing wind load and the risk of your banner ripping from its fixings. It also allows some light to pass through which can be a benefit on scaffold wraps on construction sites.

HEMMED & EYELETTED
This is our most popular finishing option. Metal eyelets are placed along the edge of the banner (usually in the corners) to provide a strong point to fix your banner to a fence or wall using bungees, cable ties, or rope. A double thickness turned edge 'hem' is welded to increase the strength of the banner, and let it withstand the rigours of being used outside.

TRIMMED EDGES
This means the banner is simply cut to size, with no other finishing. We use the latest cutting tools to ensure accuracy of the banner, making this finish a good option if you are hanging the banner or using it as a backdrop.

SUPPLIED ON A ROLL
The banner is supplied as it comes out of the printer on the roll. We will cut the roll where you required length ends, but the width of the roll is 3.2m wide, so print smaller than this will be blank to the top and the bottom. With this finishing option you will have to cut and finish it yourself, giving you greater control on how you want the banner to look for your client.

PLAIN COVER DELIVERY SERVICE
We will deliver all trade print directly to your client under plain cover using our reputable courier service. All you need to do is fill in your client's shipping address and then use your own address for the billing details and we'll do the rest.
More Information

| | |
| --- | --- |
| Product Name | Mesh Banner Trade Printing |
| SKU | TP-MESH |
| Delivery / Availability | 2-5 Days Delivery |
| Usage | Construction Banners, Fence signs, Building wraps, Scaffold banners, Stage backdrops, , Banners over sound system speakers |
| Material | Mesh PVC |
| Indoor / Outdoor | Indoor & Outdoor |
| Weight | 355gsm |
| Print | Eco Friendly Latex Inks |
| Finishing | Hemmed + eyeletted, trimmed, or on a roll |

PREPARING YOUR ARTWORK - VIEW OUR GUIDE
Need someone to design your artwork? No problem! Use our in house
design service
and our team will create perfect print ready artwork at a small additional cost.
Looking for inspiration? We have hundreds of templates available online. Check out our
full range online
to get started.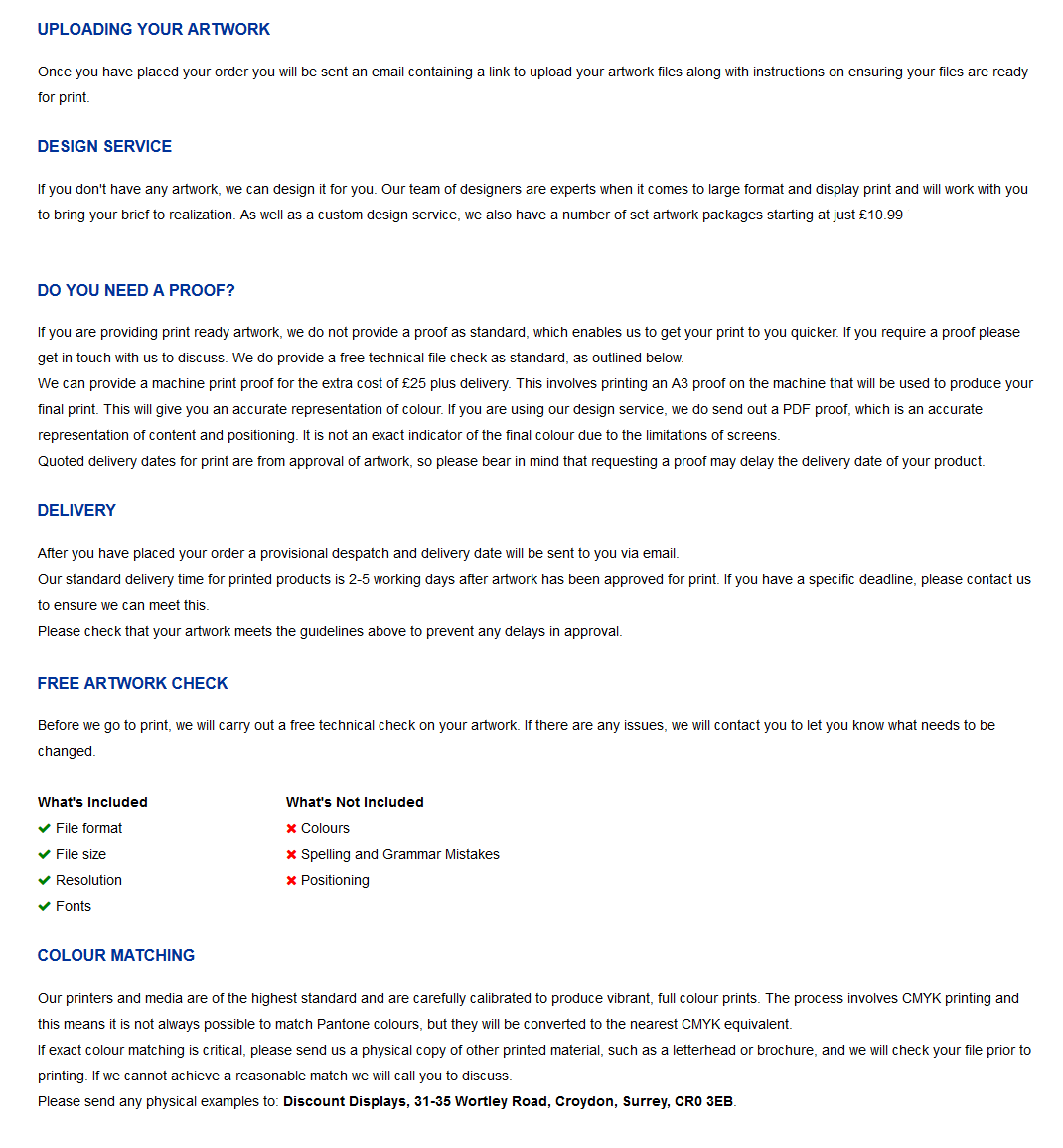 No questions have been asked about this product yet.
Check out our
FAQ page
for general information about delivery, artwork, returns and more.
If you want to ask a question about this product please contact us via the Live Chat button on the side of the page, call us on 020 8664 5660 or e-mail us at trade@discountdisplays.co.uk.