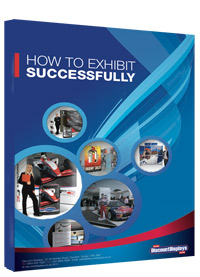 Grab a free copy of our PDF guide 'How To Exhibit Successfully'. We have used our experience in the industry to bring you a comprehensive guide to exhibiting covering the following topics:
– Benefits of exhibitions
– Pre show planning
– Planning you stand
– Booking space
– Cost of exhibiting
– Exhibition equipment
– Training show staff
– Measuring your results

If you find our guide useful be sure to sign up to our newsletter using the box on the right and connect with us via our social media channels below for more free exhibition and marketing resources.
Discount Displays are a leading exhibition and retail display equipment supplier as well as being one of the UK's premier large format print specialists. With an in house print studio and a product range of several thousand, we have an option for every business and industry.