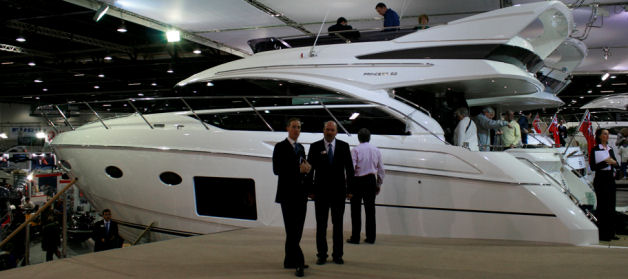 I recently attended a conference in the US and I guess that I was one of two people out of a few thousand wearing a suit and tie. It raises an interesting question, how do you dress for success at exhibitions?
I'm not a great one for fashion and given a choice I'd go for comfort over style, but when I represent my company professionalism always wins. As the maxim goes; first impressions are lasting impressions, and the clothes you wear at your trade show booth can often be the first impression a potential customer gets. Leave the casual dress code for the office where you aren't in the presence of customers very often.
At your exhibition stand is the primary way you get to meet customers and often the first contact that person has with your business, so it is crucial to get it right. The way you present yourself is as important as your exhibition stand design and graphics, if not more so.
According to Forbes and research from NYU, people make eleven major decisions about you within the first seven seconds of meeting. In addition to this, non-verbal signals are four times more important than what you say. You no doubt practice your sales pitch, but how long do you spend working on things like posture, handshake, eye contact and the way you dress?
Here are my top five tips for dressing to impress at trade shows and exhibitions.
1. Dressing for the show
Every show is Different. The style at a B2B exhibition selling agricultural equipment is going to be different to a tech gadget show which in turn is different to a medical or legal conference. If you are attending your first show, it can be difficult to estimate the dress level required. Many exhibition venues don't have a formal dress code, but if you send them a friendly e-mail they will be able to give you an idea of what to wear based on previous events.
A good rule of thumb is to dress up a level for your industry. What I mean by this is if you wear jeans and a t-shirt in your office, dress "business casual" for the exhibition with chinos and a polo shirt. Likewise if your work dress code is business casual, wear a suit and tie to the event. Bringing a jacket or blazer is always a good idea as it has the added benefit of extra pockets for business cards, pens, talisman and mints.
If you're going to a professional trade show such as a medical or legal conference you should dress as though it were an important day at the office. If you would wear a suit for a board meeting then do the same on your stand.
Your exhibition team need to be easily identifiable. One way of doing this is to go for a corporate look. Again this depends on the type of show but branded polo shirts in the same colour scheme are a great way to create a corporate identity.
2. Shoes
These get their own section. Comfort, comfort, comfort. Anyone who has spent hours on their feet knows how important shoes are. Often exhibition halls have solid floor so shoes that give a little cushioning are great. High heels give little support and can cause strain in calf muscles and the lower back (I asked my wife!). Pain in your feet can easily result in a pained expression, not what you want potential customers to see.
A colleague of mine takes two pairs of shoes to each show, when one pair get a little painful she swaps pairs. I've not tried it myself but she swears by it. A last tip on shoes, never take a new pair at a trade show or you'll have aching, blistered feet before the end of the first day.
Polish your shoes! Scuffed or neglected shoes say you aren't interested in the details, which is a bad message to project on your exhibition stand.
3. Play it safe
Unless you're exhibiting at a tattoo and piercing show, play it safe and cover body art or piercings in order to avoid offending people clinging onto the good old days. This also applies to anything out-of-the-ordinary, such as excessive make-up, jewellery, hair colour. It's the company that should get centre stage at a trade show. Remember, when working the stands and exhibits you are representing the company, not expressing yourself.
4. Walking the line between comfort and style
A quick word on comfort. Comfort is not just about if your trousers fit – (I'm not sure elasticated trousers are the right trade show look) or if your shoes are tight – it's also about feeling comfortable talking to any prospect on your stand. If a smartly dressed man in a suit steps on the stand and you're in jeans and a t-shirt, how comfortable are you going to feel?
Choose simple clothes that look good all day long. Wearable fashion has come a long way in recent years with ranges such as Ted Baker Endurance suits, iron free shirts & trousers and breathable materials.
5. If in doubt, dress up rather than down
We've all been in that awkward situation where smart-casual really meant smart-smart, better to be over-dressed and able to style down rather than look like you haven't made the effort.
As I said at the top of the article I was in the minority with a suit and tie, but I had the option to remove my tie and jacket if need be. Scrambling about to find some smart shoes or a tie to borrow is something best left in the realms of sit-coms.
What did we miss? We'd love to hear your "What Not to Wear" suggestions and comments below.