Large sized cheques provide a fantastic and powerful promotional tool for your charity or business. Being oversized, the cheque enables you to have an eye-catching photograph opportunity; and this photo, in turn, provides you with fantastic exposure for your charity's cause or organisation's brand.
So what exactly are the benefits of using a giant cheque and how do you go about getting one? Find out below.
How does a novelty sized presentation cheque help my charity?

A jumbo cheque provides you with a low-cost option to achieve a huge amount of awareness and publicity for your cause and the donation.
Using a big cheque will make a great visual impact, and will achieve the attention that the recipient of the cheque deserves. Especially in the case of using the cheque for a photo opportunity. This is because, you are able to get your cheque completely customised; place your social media links, website, logos, partnerships, and even match your brand's colour scheme.
Obviously as a charity, any free exposure you can get is a great thing, and giant cheques are an easy way to do this by posting pictures on your social media channels. It also makes a great PR piece with the person or organisation who is making the donation.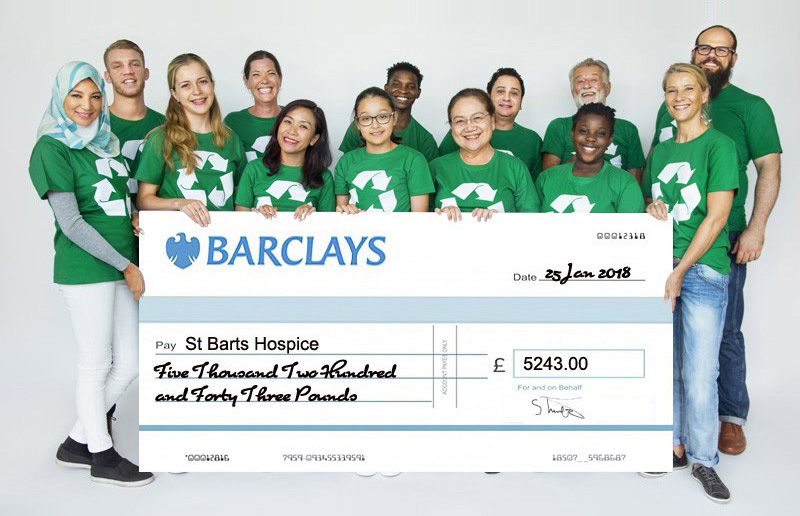 Using the cheque to gain publicity and PR for your cause
The main advantage of using an oversized cheque to receive your donation is to provide a point of emphasis for media covering your cause or even giving them another reason to cover your donation/event. The photo opportunity will immediately draw in local press and media, and even that of a larger scale depending on your current reach.
The photo opportunity you have with a cheque doesn't just have to be for press and media though, you will likely decide to use it for your own social media channels and website.
You can even choose to make it a feature of the event, providing a photobooth style section at your function; allowing all visitors and donators to take a photo with the cheque itself, allowing people to share their own pictures which will feature your brand, charity, cause, and partners, giving fantastic forms of publicity with little to no additional effort. All these factors lead to quick and simple forms of exposure and interest in your brand!

Two popular materials for giant cheques are rigid and rollable, so if you have an event and wish to have several people and parties take photos with the cheque a rigid one may be the choice. However you may wish to get more creative with the photo choice; using it during an activity; such as running, sport, or even sky diving! You may find the rollable version much more suitable.
To further the initial photo opportunity, you may even to grab another one at the deposit of your oversized bank cheque. That's right, if you have all the necessary information and an accepted form of signature your bank may accept this as an actual form of deposit. But please contact them to ensure this is applicable to your bank.
Fantastic opportunity for partnership and large charities

On a regular basis, we are asked to work with many different charities and not for profit groups, typically a lot of their fundraising is not done solely on their own. Many fundraising events are done with some form of business or corporate backing; typically a large contributor also.
This is where the customisation of a large cheque comes in handy. You are able to have multiple logos, brands, and banks printed onto the cheque itself. Having a bank printed onto the cheque itself is a popular option, creating a professional and recognisable finish to your cheque.
How can big cheques be customised?
On our pages, you can enter all the information you could wish to, enabling us to print the cheque ready for presentation, however, if you wish to add a final personal touch to the cheque you can leave fields blank when ordering. This is great if you wish to capture the moment the cheque is signed or wish to have a handwritten look to the cheque.
To further this point we can offer lamination of the cheque, giving you the ability to write on with a dry wipe marker and then wipe off easily after use, enabling the same cheque to be used multiple times
In terms of materials, the two we offer by default for large presentation cheque printing are a 5mm Foamex board or rollable PVC.
Foamex provides a rigid and robust result with a good level of weatherproofing, we find this gives the typical finish that customers are expecting when they think of a large cheque.
Also available though is the rollable PVC; rollable and tough, giving a portable and easy to store option, that is perfect should you wish to take the cheque to multiple venues.
Popular uses for giant cheques
Some of the most popular scenarios you may find big cheques being used for include:
Donations to charities
Promotion of large sales
Presentations to staff; retirements etc.
Employee bonuses
Gifts to organisations and groups
Business awards
Tournament and contest prizes; perfect for sports like golf
For display purposes
How to get a free cheque for your charity
At Discount Displays, we offer a charity scheme which enables all registered charities to have access to free display and exhibition materials.
One of these items includes a big cheque, so if you're a charity and have decided that a large cheque is the perfect high impact tool for you, then please see our charity offer page or contact us for further details.