BANNER STANDS - Roller banners and pull up banners galore.
Great Value for Money | Tried and Tested Reliability | Delivered On Time
Banner Stands are our most popular portable display. We have carefully selected a range of the best pull up, roller and tensioned banner displays from a range of UK banner stand manufacturers and exhibition stand suppliers worldwide. All our banner displays have been chosen for portability, ease of use, durability and value for money. With the flood of pop up banner stands on the market choosing the most suitable banner stands display for your next exhibition can be confusing. Make it easy; call our experts for free advice 0844 800 1020.
Budget Banner Stand
exclusive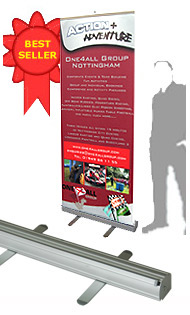 Budget Roller Banner
• Entry level roll up banner
• Ideal for volume point-of-sale
• temporary exhibit and tight budgets
• Graphic rolls up into the base
• Supplied with carry bag
• Silver or carbon anodised finish
Economy Roller Banner Stand
exclusive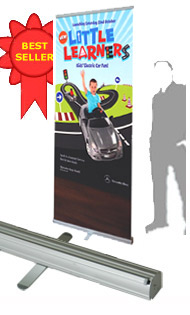 ECO Rolla
• Retractable exhibition roller banner
• Ideal for volume point-of-sale
• applications and displays
• Graphic rolls up into the base
• Silver anodised aluminium finish
• Also available
double sided
Premium Roll Up Banner Stand
exclusive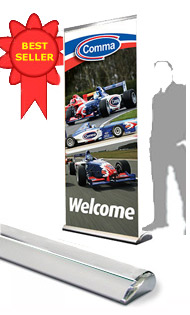 Rolla 1 Advanced
• Durable scratch resistant display
• graphics roll-up into base
• Easy to use - no tools required
• Only takes seconds to put up
• Wide stable silver anodised base
• Also available
double sided
RETRACTABLE BANNER STANDS - Including Graphics
Cassette Banner Stand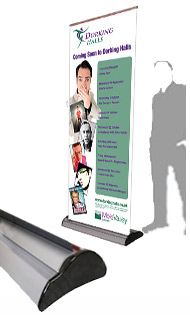 Rolla 1 Imagine
• Refined removable cassette
• roller system
• Latest generation of stand
• packed with new design features
• Drop-in cassette system for easy
• & secure change of graphics
• Twist & Lock telescopic pole
• Unique branding strip available
• on base
• Supplied with quality foam
• padded carry bag
• Anodised silver finish
• Volume discounts call
• 0844 800 1020
Was £299
From only £174.00
inc scratch resistant high quality graphics
Pop Up BannerStand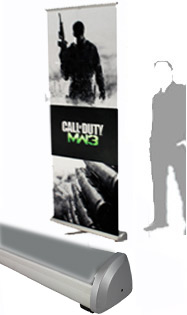 Delta
• Simple to use pull up banner
• Choose 800mm or 1200mm wide
• Height: 2000mm
• Price includes custom printed banner
• graphcs
• Comes complete with carry bag
• Stabilising foot
• Lightweight design - portable and easy
• to transport
• Perfect for trade shows
• Discount for buying in bulk • •
•
•
•
•


From only £99.75

inc scratch resistant high quality graphics
Multi-Width Retractable system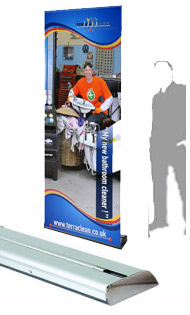 Sidewinder
• Reliable retractable banner system
• Choice of five base widths –
• 600/800/1000/1200/1500mm
• Single or double sided graphics
• Sleek satin anodised casing and
• pole set
• Magnetically attached chrome ends
• Integral bungeed poles
• Vivid, high quality graphic
• with excellent layflat properties
• Recyclable graphic panel with
• an Identification Code 5
• Supplied with padded carry bag
•
•


From only £88.00

inc high quality graphics & carry bag
Roll Up Banners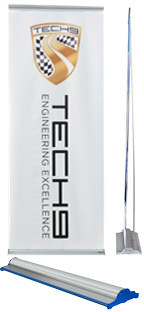 Expolinc Classic
• Premium pull up display banner
• Award Winning design
• Easy change banners via a
• cassette mechanism
• 2 popular sizes – 850 or 1000mm
• Printed banner graphic included
• Black or silver finish
• Lifetime warranty on hardware
• Optional coloured ends
• Optional light
• Supplied with a padded carry bag
• Discounts for bulk buying
•
•
From only £195.00

inc laminated high quality graphics
Velcro Friendly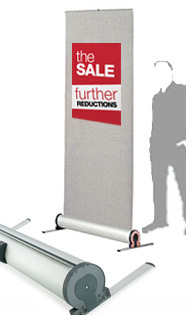 Omega
• A single sided roller display banner
• with a fabric panel
• The unit uses proven and patented
•technology and features a fixed
• height pole
• Graphic tension can be adjusted
•quickly and easily and the unit has a
•visible panel of 2m high by 780mm
• wide
• Posters can be attached quickly
• and easily using Velcro® and
•changed as required
• Available in 2 colours from stock
Was £209
Now only £165
•
Coloured Base Bannerstand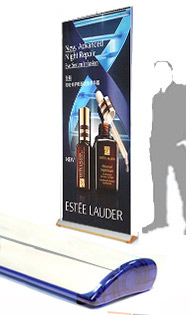 Quickscreen 3
• One of the Marketing Leading
• roller BannerStands
• Attractive and unique design
• embodying elegance, functionality
• and quality
• Available in 5 colours - Blue, Grey,
• Green, Red, Amber, and Clear
• 3 widths available - 500, 850, 1000mm
• Message easily removed in seconds
• using an ingenious cassette system
• Supplied with nylon carry bag
• Graphic sizes: 500 x 1800,
• 850 x 1800, 1000 x 1800mm •

•


From only £279.00

inc scratch resistant high quality graphics
Super Tall Banner Stand
3000mm Height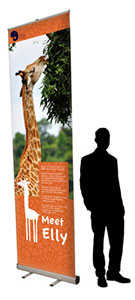 XL Giant Mosquito
• 3m High portable roller banner stand
• Available in a choice of widths: 850mm,
• 1000mm, 1200mm, and 1500mm
• Retractable cassette is portable and
• lightweight
• Height adjustable from: 1705mm to
• 3000mm
• Includes custom printed lightstop
• graphic
• Twist out feet for increased stability
• Supplied with carry bag

from £124.50
inc laminated high quality graphics
Roller Bannerstand

Barracuda
• Roller bannerstand including graphics
• Choose 800 or 1000mm wide
• Anodised silver roller base
• Adhesive top rail and telescopic pole
• Easy banner graphic changeover
• Overall Dimensions(mm): 840-2200(h)
• x 865/1065(w) x 195(d)
• Graphic Area: 800/1000mm (w) x
• 2130mm (h)
• Lifetime Guarantee
•

from £149.00
inc laminated high quality graphics
Wood Base Roller Banner Stand

Arc
• Arc roller banner stand - 850mm wide
• Price includes custom banner graphic
• Metal end cap and poles
• Aluminium top rail and bungee pole
• Unique wood veneer base
• Easy to assemble
• Complete with padded carry bag
• Graphic area: 850 (w) x 2220mm (h)
• Overall size: 870 (w) x 2260 (h) x
• 220mm (d)
• 5 year guarantee

£155.00
inc laminated high quality graphics
BIG Pull up Banner stands up to 2.4m wide - Including Graphics
1500mm wide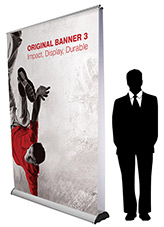 Roller Jumbo
• Popular and versatile roller banner -
• ideal for exhibition backdrops or
• showroom displays
• Single or Double sided options
• Large Graphic Area available in
• x2 widths - 1500mm or 1200mm
• Graphic area - 2145 x 1500/1200
• High Quality light stop graphic
• Available in Powder coated
• Silver finish
• Quick-change graphic release
• Quick-change Twista Plus snap rail
• Anodised silver bungee pole
• Supplied with carry bag
From £269.00

2000mm wide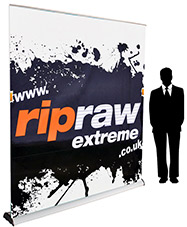 Mega Jumbo
• Versatile stand banner for
• exhibition, retail and promotional
• work
• Ideal alternative to a pop-up
• display when budget is limited
• Extra Large 2m wide PVC graphic
• printed at 720dpi on a lightstop
• material
• Quick change graphic system for
• rapid change of graphics
• Anodised silver finish
• Supplied with carry bag
• Fast turnaround
• Pop up banners in seconds

£349.50

2400mm wide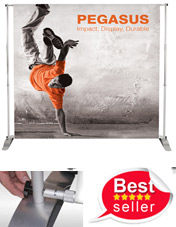 Pegasus
• Cost Effective Tension bannersystem
• Telescopic pole with adjustable
• height and width
• Available in 2 popular sizes –
• Mini or Maxi (Other Sizes Available)
• Lightweight Components pack for
• easy transportation
• Can be supplied with FR rated PVC
• or Fabric graphics
• Supplied with carry bag
•
•
•
•
LINKED Banner Stand backwalls - Including Graphics
Pull Up Wall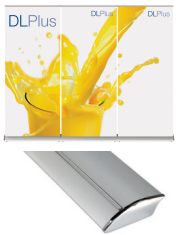 DLPlus Pullup Banner wall
• Magnetically linkable banner system
• Single unit: 2000mm (h) x 850mm (w)
• Deluxe silver anodised cassette
• Chrome end caps with optional
• coloured end caps available
• Adjustable height bungee pole
• Snap lock graphic hanging profile
• Padded carry bag included
• Optional low voltage spotlight
• Weight: 5.4kg per stand
• Quality assured - 5 year guarantee
Expolinc Display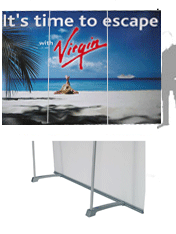 Expolinc Banner Display Wall
• Cost Effective Tension graphic wall
• Link together and create huge
• display areas
• Telescopic pole with adjustable
• height
• Available in 2,3 & 4 linked kits
• Lightweight Components for
• easy transportation
• Option for clip-on light
• Comes complete with carry bag
•

Flexible Wall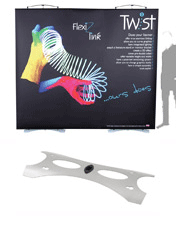 Tensioned Linked Banners
• Create wide banner display areas
• Systems linked with banner stand
• at either end & flexi panel in
• the middle
• Versatile display options - straight
• or curved
• Connector kits create seamless
• displays
• Choose 2x 800mm or 2x 1000mm
• wide banner stands
• Complete with lights and carry case
ECO FRIENDLY BANNERDisplay - Including Graphics
Bamboo Pull Up
Eco Friendly Banner Display
• Quick-change slider top rail
• Self adhesive quick applying
• graphic leader
• Twist out stabilising foot for
• extra stability
• Lightweight components
• Includes quality padded carry bag
•

TENSIONED BANNER STANDS - Including Graphics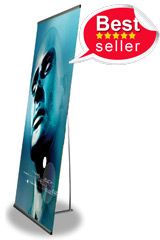 Tensioned
• Simple to use bannerstands
• Fast change graphics, snap shut
• top and bottom bars
• Strong stable and stylish
• Fast & easy assembly no
• tools required
• 3 popular widths available
• Probably the most cost effective
• banner stand available
• Ideal for high volume orders
• (call for bulk discounts!)
•
Lowest price guaranteed
•
From only £22
•
Spring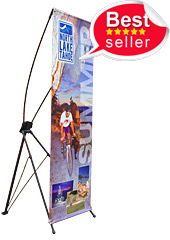 Spring
• A simple to use entry level
• banner display
• Long-lasting tension system
• No tools - no parts to lose
• Graphics attach using eyelets so
• ideal for PVC and fabric banner
• Buy in bulk and save
• Alternatie to roller banners
• Weight 1kg
•
•
•
•

BULK DISCOUNT AVAILABLE
From only £49.39
inc high quality PVC graphics
Spring Jumbo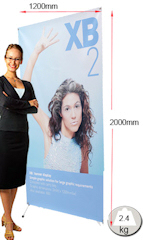 X BANNER STAND
• Jumbo version of the Spring Banner
• Stand
• Display area: 1200 x 2000mm
• X Banner Stand Design
• Tensioned system keeps banner
• graphic secure
• Alternative to pull up banners
• Easy Setup - No tools needed
• Weight 2.4kg
•
•
•
•
BULK DISCOUNT AVAILABLE
only £87.99
inc high quality PVC graphics
800mm Wide Tensioned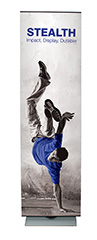 Stealth
• 800mm wide tensioned banner stand
• Single or double sided
• Price includes graphics and padded
• carry bag
• Adjustable levelling feet
• Twist and lock system
• Easy assembly - no tools required
• Size: 2115(h) x 800(w) x 50mm(d)
•
•
Contemporary Design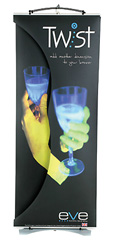 Twist
• Stylish Lightweight bannersystem
• Patented tension system allowing
• self levelling and taut graphics
• Complete with durable scratch
• resistant graphic, Low Voltage
• light and carry bags
• Range of extension arms available
• for added impact
• Stands are Linkable
• Volume discounts call 0844 800 1020

Was £349
Now only £319
inc scratch resistant high quality graphics
Weighted Base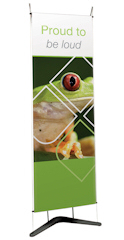 Boomerang
• Wire banner system with a
• distinctive shaped foot
• Maximum visible graphic area
• 1800mm Ht x 600mm W
• Available in black or silver finish
• Easy change graphics
• Supplied with a banner stand
• carry bag
• Volume discounts call 0844 800 1020
•
Was £249
Now only £149.99
inc scratch resistant high quality graphics
Easy Assembly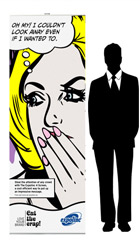 Expolinc 4 Screen
• Easy assembly Tensioned
• banner graphic
• Telescopic pole with adjustable
• height
• Available in 3 popular widths
• Lightweight Components for
• easy transportation
• Option for clip-on light and
• connector kit
• Supplied with carry bag •
•
•

From £149.50

inc printed graphics & carry case
Stable Water Base
exclusive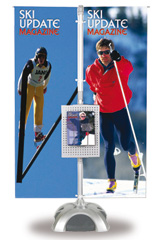 Multi-Stand
• Innovative twin banner stand design
• Easy to use - no tools required
• Only takes seconds to put up
• Wide stable water filled base
• A4 literature rack
• Height adjustable telescopic pole
• Volume discounts call
• 0844 800 1020
•
•
•

•

Only £299

inc Twin Banners
Dual Banner Stand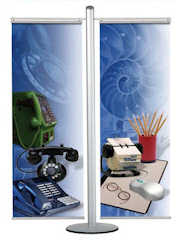 Twin Banner Stand
• Dual Banner Stand - holds 2 banners
• at once
• Single or double sided
• Price includes printed banners
• Choice of banner widths
• Central channel on pole holds
• banners securely in place
• Change banners easily and quickly
• Fast assembly •
•
•
•
From £165.00
•
Screen Mount Banner Stand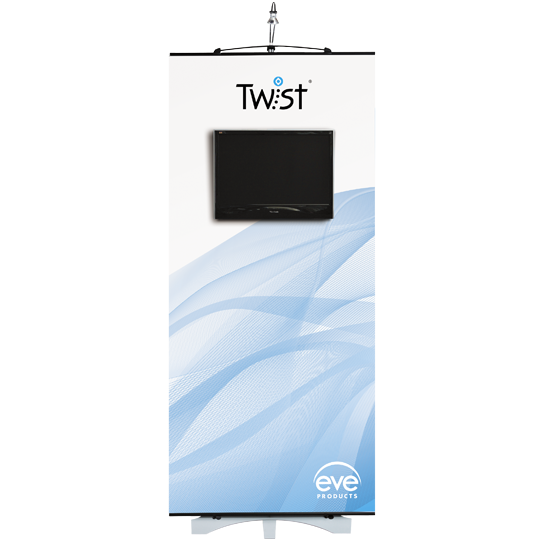 Twist Media
• Banner stand with mount to hold a
• screen
• Can be used with the Twist linked
• Choice of banner widths and heights
• Lifetime hardware guarantee
• Includes printed single sided banner
• Can hold screens up to 8kg
• Free carry bag and LED spotlight
• Screen not included •
From £300.00

Desktop Banner Stand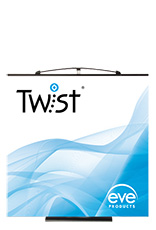 Twist Desktop
• Desktop banner stand
• Includes printed graphic - choose
• single or double sided
• Graphic size: 850mm (w) x 850mm (h)
• Includes carry bag
• Optional LED light
• Banner graphics printed in-house
•
•
From £99.00

Outdoor Banner Display Stand
exclusive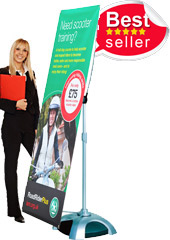 Y-Band
• Simple, effective and
• robust outdoor banner
• Option for 1 or 2 banners
• The UK's first outdoor
• banner display.
• Base can be filled with water to give
• you a stable outdoor display
• Uses durable PVC weatherproof
• easy change banners
• Option to add carry bag
• Bulk buy discounts
• rrp £299 save up to £200
•
Was £299
From only £95
inc high quality graphics
Vinyl Banner Stand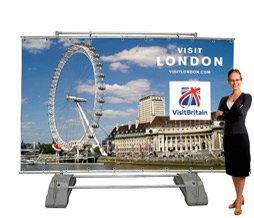 Giant Banner
• High performance water filled
• base giant banner stand design
• Ideal for car dealerships and
• garage forecourts
• Allows for maximum visibility of
• large outdoor or indoor messages
• Takes easy change PVC outdoor
• banners
• Banners 1.5m high x 2.5m long
• or 2.4m high x 2.5m long
•
•
•

Outdoor Pull Up Banner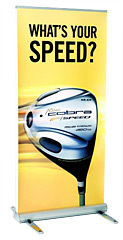 Rolla Outdoor
• UK's first retractable pull up banner
• stand for outdoor use
• Used on hard or soft surfaces
• Double sided PVC banners printed
• at 720dpi
• Patented solution to guarantee
• stability in stronger winds
• Roll up banner stand supplied with
• x2 bags for easy transportation
• Visible graphic size 850 x 1800mm
• Optional Extra Stability Ground
• pegs for Extreme conditions
• 16kg weight
•

Only £649

inc 2x graphic bags + graphics
Budget Outdoor Roller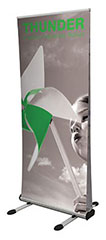 Thunder Banner Stand
• Budget Outdoor Rolla stand
• Ideal for all Outdoor events
• Double sided graphic area
• Custom printed outdoor PVC graphic
on both sides
• Large Double feet for stability
• Ground pegs supplied for extra stability
• Comes with carry bag
• Graphic area: 850 x 2025mm
• Bulk buy discounts
•
•

Outdoor Banner Frame Display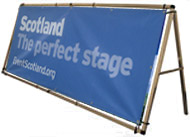 Monsoon
• Lightweight economy horizontal banner
• frame
• Ideal for advertising at indoor or
• outdoor shows/events
• Push-fit assembly with plastic
• flush fit joinings
• Natural finish 25mm square
• aluminium tubes with reinforced
• plastic moulding
• Complete with bunjies and
• ground pegs
• Optional carry bag