EXHIBITION STANDS - POP UP'S UK BEST SELLER
UK'S BEST SELLING POP UP EXHIBITION DISPLAY DELIVERED ON TIME EVERY TIME.
We tested every exhibition pop up display on the market and have chosen the exhibition express stand. The best popup stand for ease of use, value for money and durability.
With hundreds of exhibition displays and trade show systems sold this year you can be sure Discount displays has the experience and skill to provide you with a quality system at
guaranteed lowest prices.
Our pop up stands frames and banner display are backed by a 10 year guarantee. Exhibition graphics are manufactured in house at our 7000 sq ft factory.
| | | | | | | | | | |
| --- | --- | --- | --- | --- | --- | --- | --- | --- | --- |
| | Quick & Simple... | | Best Seller... | | Fast delivery... | | Stunning Graphics... | | 10 Year Guarantee... |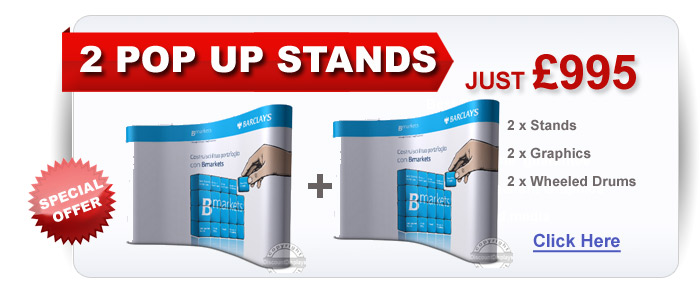 GRAPHIC EXHIBITION POP UP STAND

• UK's best selling pop-up exhibition stand
• Pop-up exhibition frame has a 10 year
• manufacturers warranty
• Strong lightweight aluminium pop up frame
• Fast and easy to assemble. No tools required
• Quick fit magnetic fittings
• Price includes top quality full colour scratch resistant
• exhibition graphics printed in house on opal jet and
• laminated with deep crystal

FABRIC POP UP EXHIBITION STAND

• Frame has a 10 year manufacturers warranty
• Aluminium frame is Light weight yet strong
• Fast and easy to assemble. No tools required or lose
• Prelude "velcro friendly" fabric panels available from
• stock in. Blue, Grey, Red, Green, Black. Other colours
• to order


Available Fabric Colours
FROM £399
FROM £299
FAST DELIVERY
IN STOCK - immediate despatch
See our unbeatable pop up stand kit special offers
POP UP
Exhibition stand with shelf
POP UP
Exhibition stand with illuminated ends

• 3 x 3 pop up with shelf £855 inc Fabric Panels

• 3 x 3 £795 inc illuminated ends & fabric centre panels

• 3 x 3 pop up with shelf £1199 inc Graphic Panels

• 3 x 3 £1140 inc illuminated ends graphic centre panels

• 3 x 4 pop up with shelf £1055 inc Fabric Panels

• 3 x 4 £925 inc illuminated ends & fabric centre panels

• 3 x 4 pop up with shelf £1515 inc Graphic Panels
• 3 x 4 £1255 inc illuminated ends graphic centre panels
Choose Discount Displays and you'll be in the company of many high street names, Councils, Government departments & Educational Establishments in the UK and World wide. Ideal for marketing campaigns, events, conferences, schools, trade shows .

MAX FABRIC POP-UP

Max Fabric Pop-Up

Max Fabric is one of the quickest easiest way to create a large backdrop for retail, shopping centre or exhibition displays. These lightweight systems have a high quality printed fabric graphic velcroed to the frame that stays on even when packed away.

Prices From £399.95