Poster Frames
Next Day Delivery | Low Prices
We have a Poster Frame to suit any need. Our range includes Free Standing Sign Holders, Poster Hangers, Chalk Snap Frames, Window Holders, Poster Stretchers, Snap Frames and Clip Frames, Slide-In Poster Frames, Counter Top Frames and Security Frames. Although this may sound like a lot of options, we have laid out our Poster Frames so you can find the right poster frame for you at a click of a button. If you need help in choosing the right poster frame for you please call us on
0844 800 1020
for quick and helpful advice.
Snap Frames
& Clip Frames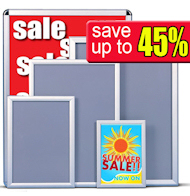 Range of snap frames and clip frames many in stock for next day delivery. Choose from a wide range of poster display options.
•

Security Frames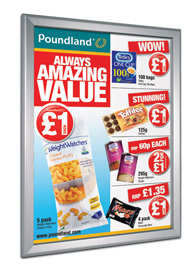 Security poster holder snap frames for use in public areas. Locking and secure poster display frames, many available for next day delivery. Choice of popular sizes.

Slide-In
Poster Frames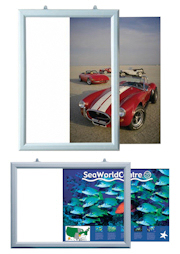 DOUBLE SIDED SLIDE IN POSTER FRAMES
• Portrait or Landscape format
• Easy poster access & changing
• 25mm Aluminium frame with
• mitred corners
• Next Day Delivery
Poster Hangers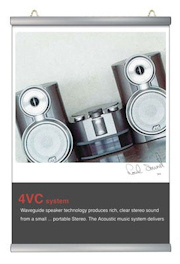 Hang your poster securely with our Selection of Poster Rails and Poster Holder Clamp Sets. Wide range of sizes available, many options in stock for next day delivery. Ideal for displaying posters in retail areas, wall or ceiling mounted.

Chalk Board Snap Frames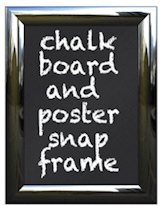 POSTER FRAMES WITH CHALKBOARD BACKING
• Stylish Snap frame with double
• sided chalk board insert
• Reversible chalkboard and poster
• facility
• Wall mounted indoor or outdoor use
• Realistic finishes on aluminium
• frame – Wood Effect, Polished
• Silver and Gold
• Front opening frame for easy
• change of message•

Poster Stretcher Frame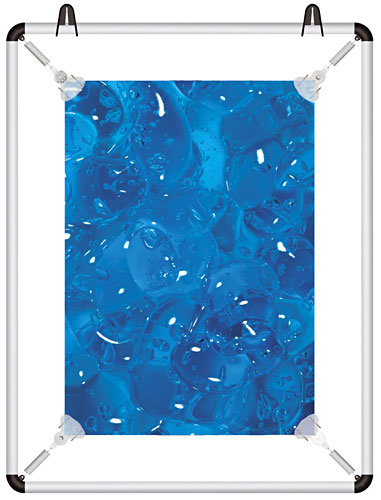 A4,A3,A2 & A1
POSTER HOLDER FRAME
• Hold posters taut with this
• lightweight frame
• Quickly change graphics
• Anodised Aluminium frame
• Includes two U hangers for both
• wall & ceiling mounting
• Plastic clips springed from corners
• hold the poster in the centre
• without ruining the poster
• In Stock - Next Day Delivery•
From £6.80

Window Poster Holder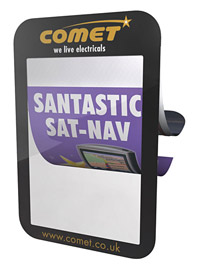 WINDOW POSTER HOLDER WITH PRINTED HEADING
• Takes A2 (594 x 420mm) posters
• Mounts to the inside of a window
• Translucent tape edge pre-applied
• Durable easy to clean PVC poster
• wallet
• Bonded at the top with magnetic
• tape to sides and bottom
• Black poster surround with optional
• graphic at the top
•