Folding Gantry Display Systems

A foldable trade show truss system that is easy to assemble, pack away and transport. Below you will see a number of popular off the shelf kits, but our modular truss system has endless possibilities, so get in touch and we will design a bespoke stand for your next trade show. We also offer in-house graphic design, taking your logo and concepts and turning them into a show stopper. The truss is made from strong aluminium and steel composite material and can easily be added to as you grow.
Truss Buyers Guide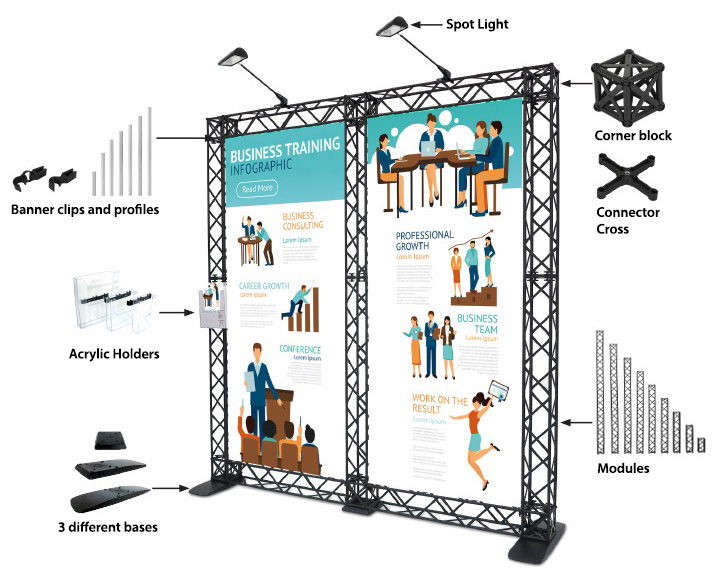 Our folding gantry truss is one of our most popular exhibition stand options, and for good reason. The impressive system is made from an aluminium composite, meaning that it is lightweight but incredibly strong. The folding design means that it is portable and can be easily self-assembled with no expert knowledge or tools required.
The modular nature of these kits means that as your business grows, your stand can grow with it. You can reconfigure existing modules or simply add more components as and when you need them. The truss system is ideal for a number of use cases, so it is equally at home at a tradeshow, showroom or retail environment. The impressive system is capable of 4.5m spans, unassisted, meaning that we are able to create very large stands at a fraction of the cost of other systems.
With all of our truss displays we are able to offer a free bespoke 3D design layout or customisation of any existing kit. Because the truss is modular we can easily adapt to your needs and provide you with a 3D render using our in-house software. To get a custom quote and free 3D design, go to our gantry quote form and let us know your requirements. Our team will then get in touch with some options to best suit your space and budget.
Truss FAQ
How big can you build?
The maximum unsupported span we can achieve is 4.5m, but by adding additional struts there is no limit to the size of a stand you could achieve with our system. Our portfolio of pre-designed stands on this page include examples up to an impressive 50m2, and we have built custom truss stand much bigger than this.
How heavy is it?
Our truss system is constructed from a lightweight but durable aluminium composite material. For reference, a 900mm module weights 2kg, whilst a corner block is around 1kg. As it is so lightweight, even a large 4x4m stand weights only 60kg compared to 117kg for an equivalent traditional Vector modular exhibition stand.
What sizes do you offer?
We currently offer module lengths of 300mm, 600mm, 900mm and 1200mm as well as all of the other components you need to create a show-stopping stand. You can easily connect modules together to create a truss stand to fit the space you are working with. If you need help deciding what combination of module lengths to use, fill out our gantry quote form and we will create a 3D render for you with a list of module lengths. We keep a high level of stock to ensure you can get your stand as soon as you need it.
What is it made from?
Our folding truss system is constructed from an aluminium composite material. This composite, combined with the truss style, allows the system to be incredibly strong but still lightweight and portable.
Check out our truss technical specification PDF for more details on materials and sizes of the individual components.
Can Discount Displays print the graphics?
Yes - we have a state of the art in-house studio, using the very latest in printing hardware and top quality inks to produce stunning graphics for your exhibition. We print onto straight cut, reinforced 450gsm PVC, which is exceptionally durable. Our print team use their years of expertise to get the very best from your truss stands graphics, ensuring you end up with a stand that looks professional and eye-catching.
We are committed to reducing our impact on the environment, and that is why we invest in premium quality HP latex inks, which have a host of eco-friendly credentials. Another benefit of latex inks is that they are odourless, so no nasty chemical smells unlike many printers who use solvent based inks.
Can Discount Displays design the graphics?
Yes - as well as printing, we also have a team of graphic designers who know exactly what works to get your message across. For a small additional cost, we can design show stopping graphics for your truss stand, giving you one less thing to worry about for your upcoming exhibition. Please get in touch to discuss your design requirements.
How big can the graphics be?
We can print graphics 2.5m deep by any length. As the widest truss beam is 1200mm, we can easily cover this size, giving you a seamless graphic display on your stand.
How do you make double sided graphics?
We can produce printed graphics single or double sided. In the case of truss, double sided graphics means one banner on each side of the frame. One banner is clipped onto the beam facing the front, and the other banner is clipped on facing the back.
Are the graphics fire resistant?
Yes, our graphics are B1 fire resistance rating. This is classed as a hardly flammable material, which makes it ideal for places with visitors such as exhibitions and showrooms.
I like the look of one of your stands on this page, but want it changed slightly, can you do this for me?
Yes - if you go onto the product page of the stand you like, you will see a link saying 'click here' to customise the stand. If you fill in your details we will come back to you with a free 3D render, which you can then approve or modify before ordering.
Do you offer an installation service?
Yes, but it can be booked up well in advance during our busy season, so please give us plenty of warning.
How can I transport my truss?
As the truss system folds down, it is extremely easy to transport, and hardly takes up any room compared with other types of modular stand. We offer two extremely tough cases, a 4 foot long truss case and a 5 foot long truss case that are designed to protect your truss stand and make it easy to move with integrated wheels.
Can you add lights?
Yes! Our vibrant 150 watt lighting can be simply clipped onto the frame and is a great way to make your graphics and products even more prominent.
What other accessories are there?
We can offer counters, A4 brochure holders and shelving that can be attached to your stand, as well as a huge range of freestanding products from digital signage to exhibition furniture and everything in between to make your exhibition a success.
The shelving is incredibly strong and we can offer options for straight or corner shelves. The shelves attach easily with a simple clamp system.
Can I mount a monitor to the stand?
Yes - a single module can take the weight of up to 80kg. This increases with the width of the stand, so a 3m wide beam can support up to 160kg evenly spread.
Why is it called reconfigurable / modular?
We call these stands 'reconfigurable' or 'modular' because you are able to simply add or take away components to change the size or style of your display. This makes these stands even better value for money as you can get multiple uses from the same system. In the past, we have supplied exhibition stands with the potential to also be used as retail or showroom displays. The expandable nature of the system is also great, as it allows your stand to grow as your business does, reducing the excessive cost of a full stand rebuild.
How is it assembled?
Our system is quick and simple to put together, with no tools required, but can be sped up with an electric screwdriver. To connect components together you simply have to unfold them, line up the thumbscrew with the thread and turn until tight. Once you have placed an order we will send you information about the easiest ways to assemble your specific design. Check out our videos below to see for yourself how easy they are to put together.
Assembling a truss system backwall
Assembling an L-shaped truss stand
Need inspiration? Check out our truss gallery below for ideas (click an image to enlarge)