Custom Printed Magnetic Van and Car Signs
Magnetic Van and Car Signs
1
5
5
1
Magnetic vehicle signs are ideal for sticking on the sides of vans or cars. They are a cheap and effective way of using branding space. Whether you are a building company, parking your van on-site or an estate agent showing around clients, they are an excellent solution. We also have great quantity discounts so you can kit out your entire fleet at a snip.
Read More
Want a free sample? Click
here
or call us on 0208 664 5600
Key Features:
High-quality printing directly to the sign surface so no peeling
Durable UV fade resistant inks for outdoor use in all weather
Apply to any steel surface including cars, filing cabinets and steel shelving
Perfect for when branding needs to be changed more regularly
Can be easily recycled
Use the free advertising space on the side of your van
Priced per sign - great quantity discounts available
Custom printed, with graphic design service available to get the perfect graphic for you!
Magnetic vehicle signs are a cost-effective way to temporarily brand a vehicle. They are ideal where signs need to be added and removed on numerous occasions. And best of all they use free advertising space. We have been printing signs for over 30 years use our experience to highlight your company.

Magnetic car signs can be applied to any steel surface and perfect for Taxi cabs, Vans, Trucks even filing cabinets and steel shelving. This means that any vehicle can be transformed in seconds from a moving advertisement to a private sign-free transport and back again – day in, day out.


No artwork No problem. We have numerous professionally designed magnetic sign templates that you can easily customise using our online design tool in just a couple of minutes. If you dent see a design you like our graphics design team are on hand to help

All magnetic vehicle signs for cars and vans are produced using the highest quality 0.85mm magnetic sheeting and printed using a full-colour digital machine and over-laminated for extra protection.

We have been producing magnetic car signs in the UK for over 25 years.

We can make designer signs in many different sizes and shapes but our most popular sizes is 610mm x 305mm which is perfect for most vehicle doors.

Magnetic signs are suitable for temporary marking other magnetic friendly metals why not use them for marking warehouse racking. Not only this all of our magnetic signs, sheet or tape, now have an environmental option when it comes to disposal. Providing it is our material, all magnetic sheet & tape used in retail display,

exhibition display or as fridge magnets & signage can be returned to us for re-processing into new material. This enables you to actually reduce your disposal costs, safe in the knowledge that the material will NOT enter the landfill.

Magnetic Sign User Guide
Magnetic vehicle signs are designed for use on flat surfaces. When you attach your magnetic sign to a vehicle make sure that it is attached to a flat surface and that the surface is clean and dry. If the magnetic sign goes over ridges or gaps it may fall off.

After rain wipe the back of the sign to remove moisture to increase the lifespan of the product

Signs are best stored flat but if you do need to roll them up to make sure it is round a tube and that the printed side is facing out. Allow the sign to uncurl before use.

Clean magnetic signs with warm soapy water and dry them making sure there are no bits of grit or dirt on the magnetic surface. Avoid leaving signs on very hot vehicles for long periods. Store at room temperature and out of direct sunlight.


More Information

| | |
| --- | --- |
| Product Name | Magnetic Van and Car Signs |
| SKU | MAG |
| Delivery / Availability | 2-5 Days Delivery |
| Usage | Vehicle Branding, Van Signage, Taxis, Retail Steel Shelving |
| Durability | Long Term |
| Material | Flexible Magnetic Material |
| Indoor / Outdoor | Indoor & Outdoor |
| Weight | Lightweight |

PREPARING YOUR ARTWORK - VIEW OUR GUIDE
Need someone to design your artwork? No problem! Use our in house
design service
and our team will create perfect print ready artwork at a small additional cost.
Looking for inspiration? We have hundreds of templates available online. Check out our
full range online
to get started.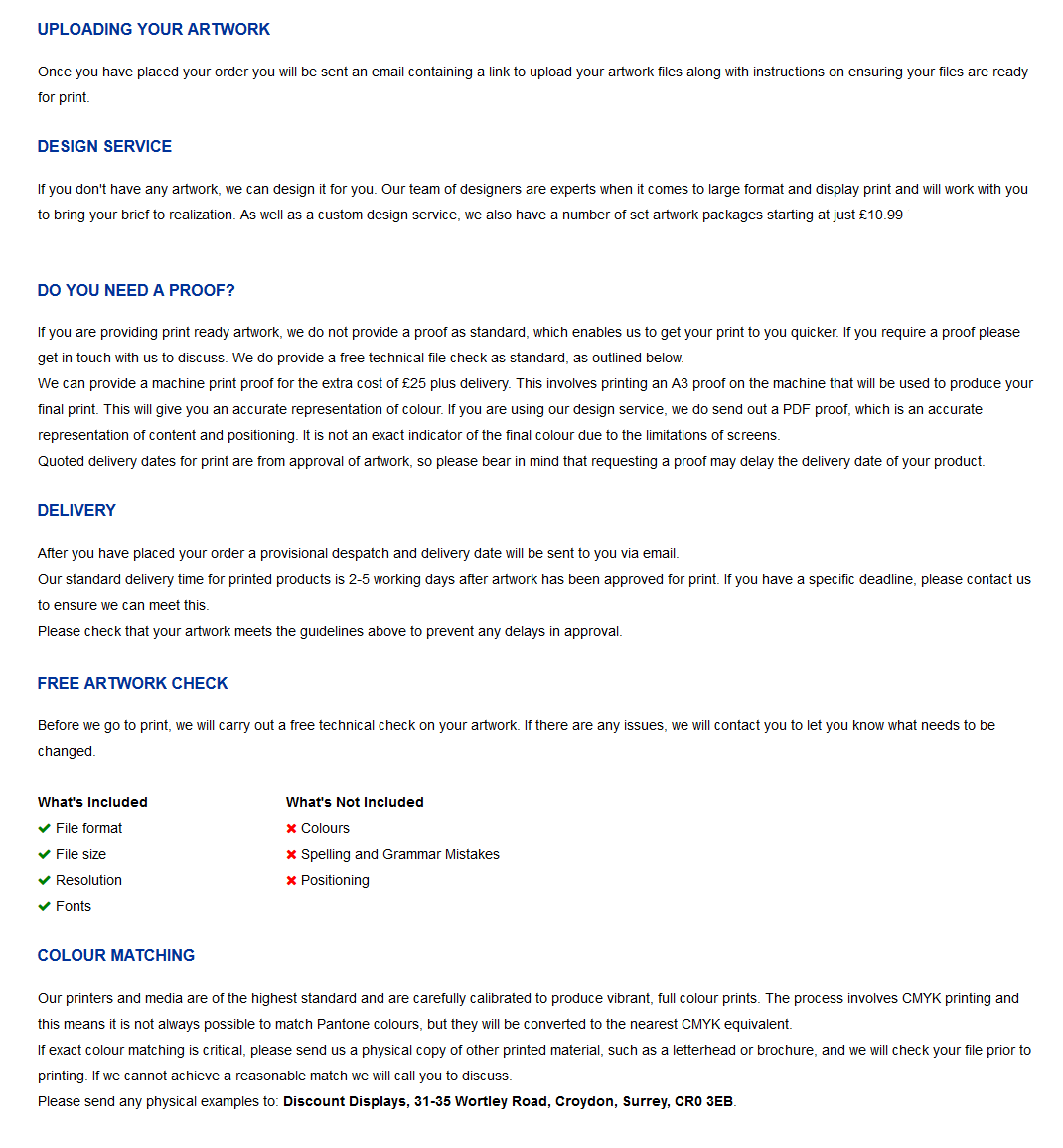 I don't have any artwork for my Magnetic Signs can you help
We have free online design tools. Choose one of our pre-designed templates, personalise it online, and you're done.
Alternatively, for a more bespoke solution, we offer a magnetic sign design service starting at just £10.99
Do my magnets have to be rectangular?
Most vehicle magnets are rectangular with rounded corners. This gives the maximum surface area and maximum adhesion for moving vehicles. However, we can custom cut magnetic signs into any shape you like. Due to the reduction in adhesion, we would advise that contour cut magnetic signs are used for static promotions only or slow-moving vehicles
Does your magnet come with a laminate covering?
No, it is not required; the signs are printed using inks that are UV cured, so they are very resistant to fading and abrasions.
Is there anywhere on my car I should not place a sign?
We recommend not placing the sign on any damaged, rusted, or non-magnetic surfaces. Using the sign on such surfaces can cause the magnetic adhesion not to work as intended. Furthermore, it may cause further damage to your car if you do so.
Ideally place the magnetic sign on smooth flat surfaces, away from any crevices or creases which may lead to interference from wind.
Will your magnetic signs damage my car?
Make sure that the surface you are adhering the magnets to is clean so there is no chance of grit scratching the vehicle's surface. additionally, make sure the back of the sign is clean and free from dirt and dust.
Leaving the sign on your vehicle all the time in the same position may cause your vehicle's paint to become discoloured compared to the rest of the vehicle: where it is protected from the sun.
Do car magnets stick to all types of vehicles?
Only steel. If you're not sure if all of your vehicle is metallic, or if there are plastic elements. Then you can either test the area with a small magnet or ask your vehicle's manufacturer.

Are vehicle magnets weatherproof?

Yes, they are, and the inks will not fade in the sun, as they are printed using UV resistant, waterproof inks.
What about car washes?
You must remove your car magnets before using an automatic car wash or a power jet wash.
Is there a limit on how many times I can remove and put them on my van?
As long as you follow the care instructions, the magnets will last 3-5 years and are designed to be taken on and off the vehicle as many times as you want.