Replacement Pop Up Drops and Reskin Graphics
Replacement pop up stands graphics. Pop up stand looking a bit ragged or need to change your marketing message? Our in house digital large format printing and finishing service offers a very affordable replacement service. See below for the range of stands we offer!
Read More
RRP

£99.00

|

Save £29.25 (30%)
£69.75
Key Features:
Computer cut perfect panel alignment
Scuff resistant laminate over quality polyester material
High resolution photo realistic printing
Design service available
Free artwork check and advice
For a 3x1 Pop-Up Stand you would need 3 drops in total
For a 3x2 Pop-Up Stand you would need 4 drops in total
For a 3x3 Pop-Up Stand you would need 5 drops in total
For a 3x4 Pop-Up Stand you would need 6 drops in total
For a 3x5 Pop-Up Stand you would need 7 drops in total
Replacement graphic panels offer a cost-effective method of refreshing and updating your existing Pop Up Display Stands for different trade shows or changing your promotional message.
As well as replacement pop up stand drops for our own Discount Displays systems we can print replacement pop up stand graphics for most of the systems on the market.
— Evolution Quick
— Impact
— Evolution Express
— Nimlok
— Nomadic
— Premier
— Elite
— Plex Supremacy
— Plex Advantage
— Nomadic
— Premier
— Easy Stands
— Abex
If your not sure what make it is please send us clear photos of your existing stand to include the frame, fixings and case and we might be able to help identify the make of stand you have. If you are ordering non Discount Displays Pop up drops please also fill in the individual panels size box above
if you don't have any artwork we can design your pop up for you - Find out more about our design packages
here
More Information

| | |
| --- | --- |
| Product Name | Replacement Pop Up Drops |
| SKU | DROP |
| Sided | Single-Sided |
| Durability | Medium Term |
| Material | 505 micron thick stoplight media. 100% Polyester grey backed, premier pop up, anti curl media |
| Indoor / Outdoor | Indoor |
| Expected Service Life | 3 Years |

PREPARING YOUR ARTWORK - VIEW OUR GUIDE
Need someone to design your artwork? No problem! Use our in house
design service
and our team will create perfect print ready artwork at a small additional cost.
Looking for inspiration? We have hundreds of templates available online. Check out our
full range online
to get started.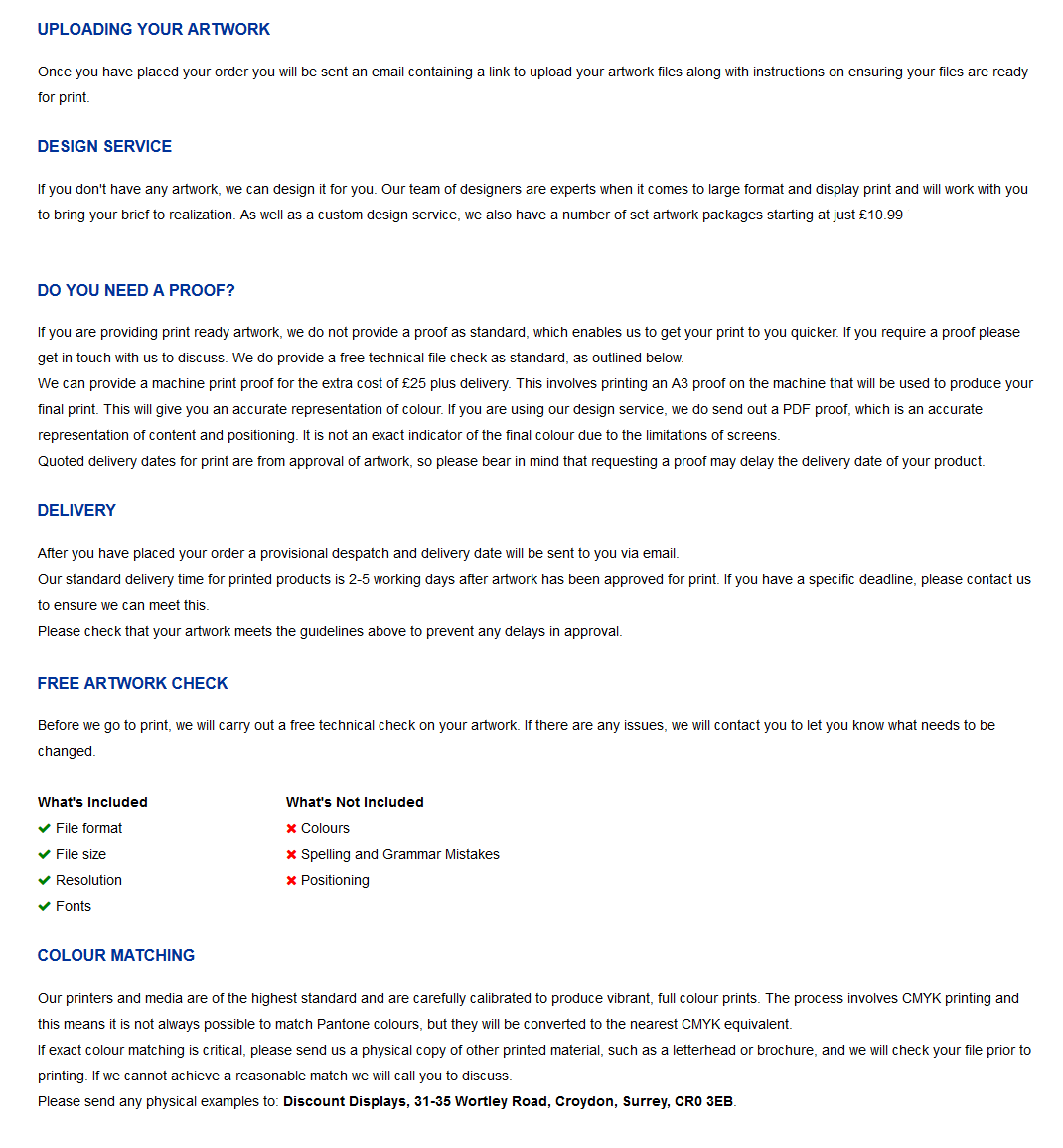 Why buy replacement graphic panels?
They offer a cost-effective method of refreshing and updating your existing Pop Up Display Stands for different trade shows or changing your promotional message.
What material are pop up drops printed on? Unlike some cheaper drops our pop up drops are still made from top quality blackout out polyester material. finished with a scuff resistant over-laminate to protect your investment

Are they easy to transport?
Yes, they can be loosely rolled up when not in use. Instructions are provided
Are they supplied with magnetic tape? Yes, the panels have magnetic tape on each edge so they can be attached to the magnets on the pop-up stand.
Do replacement pop up exhibition drops come with all the fittings? Replacement drops for our own Discount Displays Pop up stand come with hanging bars on the top and kickers on the bottom for fitting to the Vittesse pop-up frames. Other make will be dependent on the availability of parts. If there are any issues we will call you to discuss solutions

What size are pop up drops?
The Discount Displays panels are 2225mm x 675mm wide. For other makes the exact size will vary depending on the model. Please let us know the exact size of the graphics you require.

Which pop up exhibition frames will your replacement graphics fit?
We can offer replacement graphic panel drops for most of the Pop Up Display Stand kits and systems available in the UK. including

Evolution
Quick
Impact
Evolution
Express
Nimlok
Nomadic
Premier
Elite
Plex Supremacy
Plex Advantage
Nomadic
Premier
Easy Stands Abex

If your not sure what make it is  please send us clear photos of your existing stand to include the frame, fixings and case and we might be able to help identify the make of stand you have

Why are there two different Vitess pop-ups for Discount Displays?
Which improved our stand in 2019 and there was a slight change in the panel width from 673 to 675mm

Are the Pop Up Panels from UK Pop Up Stand Supplier Durable?
Are pop up drops unlike some are finished with a scratch and scuff resistant laminate to keep your graphics looking good longer?

Are pop up replacement graphics blackout?
Yes, the material we use is totally opaque so you get no see-through from the reverse.

How do I care for my pop up drops.
Pop up drops should be loosely rolled when they are being stored. With the printed side of the graphic facing outwards. They can be wiped down with a damp cloth