Modulate™ Fabric Displays
Modulate™ fabric displays are a revolution in portable modular stands, consisting of a lightweight aluminium tubular frame design and the innovative, patent pending 360° MagLink magnetic connection system. This enables multiple stands to be joined together easily and positioned at any angle, instantly making them one of the most versatile display stands on the market.
The sturdy frames are covered in a double-sided, custom printed stretch fabric graphic that is simply slid over the frame to hold it tensioned in place. The great thing about the Modulate™ fabric graphics is that they fold for easy storage and transportation, additionally they can also be washed to keep the graphics looking pristine for years to come.
Our Modulate™ displays are available to buy as cost effective kits or as individual component stands that can be used on their own or combined with any other Modulate™ component; the only limit is your imagination! Check out our full range below, if you have any questions please call our team on 020 8664 5660 for simple, helpful advice.

Introducing the Modulate™ display system. A unique stretch fabric stand that can be joined together via magnetic connectors to create stunning custom printed displays.
About Modulate™ Stands
Modulate™ display stands are one of the most versatile systems on the markets, combining vibrant printed fabric graphics with a tubular aluminium frame that has integrated magnetic connectors, enabling you to connect multiple components together in seconds.
With 11 different shapes and sizes of stands, the possibilities are endless. You could use one on its own as a replacement for a banner stand, several together to make a backwall, or go even bigger to create a full exhibition stand. These fabric display stands truly suit any environment, from retail spaces to trade shows, offices to shopping centres, making them a great option for any business regardless of industry.
Modulate™ displays consist of a 30mm aluminium tubular frame, Twist and Lock stabilising feet and a double sided printed fabric graphic that slides onto the frame. The whole system is completely tool free and can be set up by one person within a few minutes.
The unique patent pending MagLink connector system involves four powerful 360° magnets incorporated into the frame, meaning any frames can be connected to one another and the angle can be adjusted instantly, enabling you to create a huge variety of modular stand layouts.
With different heights and styles of frame available, Modulate™ fabric display stands are designed to scale, so no matter the space you have to work with you can just add or remove components as necessary without having to buy a whole new stand.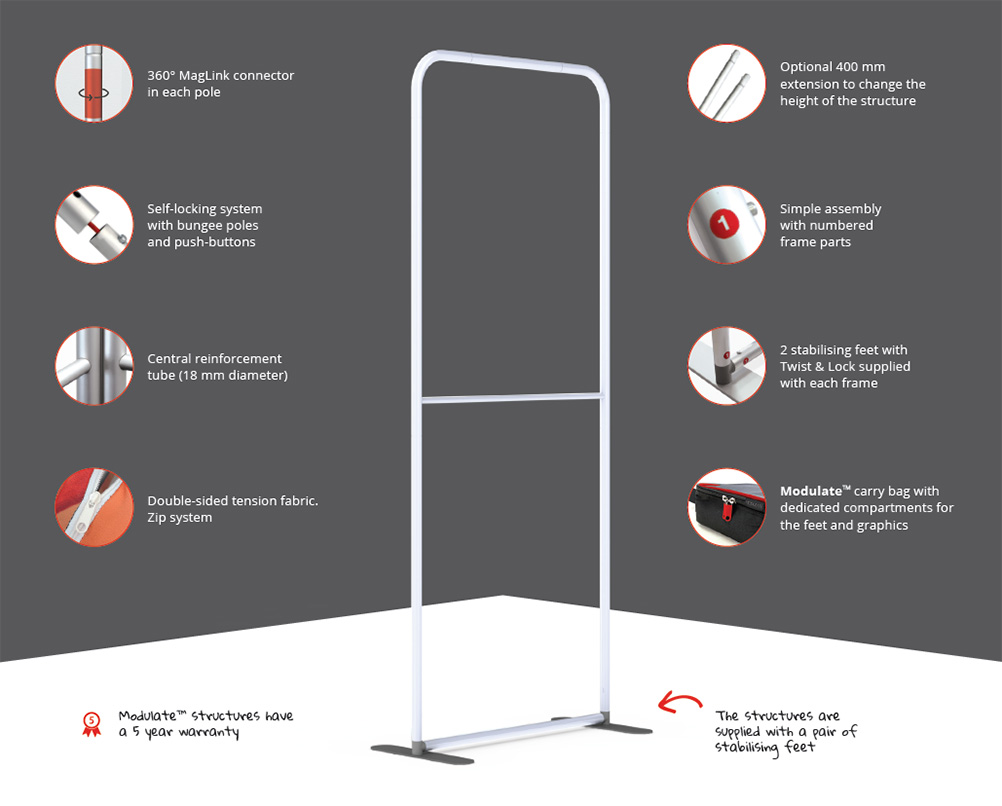 Easy Tool Free Assembly
Some portable modular stands on the market can seem daunting when it comes to assembling the stands themselves, but with Modulate™ frames it's a piece of cake.
The frame is comprised of tubular sections that are self-locking with push buttons and have bungees running through them so you can't get them lost or mixed up. All the sections are numbered, so all you have to do is match up the numbers and push together. For a standard 2000mm high frame there are 7 sections, so the whole process takes less than a minute.
Once the frame is assembled, place the stabilising feet at the bottom of the frame and rotate to lock in place.
The final step is to then slide the fabric graphic over the frame and you're done. No tools, no fuss, just one person and you're good to go.

Unique MagLink Connection System
The patent pending MagLink system is perhaps the best feature of the Modulate™ display stands range. Each component stand has four magnets incorporated into the frame, which allows you to connect any two frames together without the need for any tools, simply place them so they are touching and that's it!
The strong integrated magnets work 360° around the frame, which enables you to connect two frames at any angle and adjust them as you see fit to best work with your space. What this also means is one stand configuration can have multiple uses, such as a partitioning that can be closed upon itself to work as a changing area.
Because it is so easy to connect frames together, you can combine multiple size and shape frames in innumerable configurations.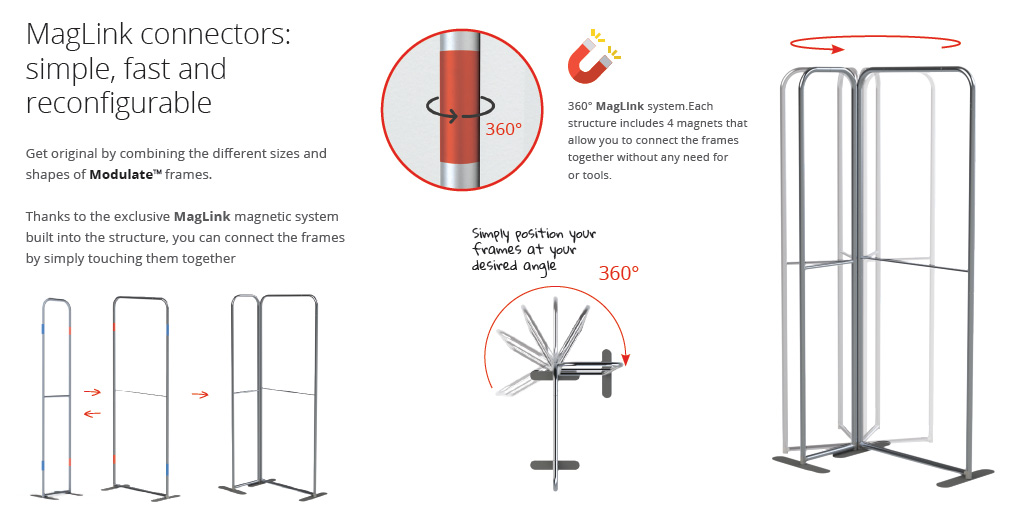 Stretch Fabric Graphics
Each Modulate™ component stand comes complete with a custom printed, double sided fabric graphic. The tension graphics are designed to fit the frame perfectly; they simply slide over the frame in seconds and are then zipped up at the bottom to hold them tightly in place. Gloves are even provided to ensure your graphics stay looking pristine!
The print quality of the Modulate™ fabric is exceptional and is printed using a dye-sublimation process. This involves the use of heat and pressure to bond the ink with the fabric, which creates a long-lasting print finish that doesn't peel or fade.
The great thing about fabric graphics is that not only are they lightweight and fold down when not in use, but they are also extremely easy to maintain and keep clean. The crease resistant textile fabric can be washed in any regular household washing machine, without compromising the print.

Create Scalable Systems
Modulate™ is undoubtedly one of the best systems on the market when it comes to scalability. As well as the MagLink connection system allowing you to combine multiple components together and adjust them at any angle, there is also the option to add 400mm extension poles to any 2000mm high component. This cost effective solution means you can use the same frame for both 2000mm and 2400mm heights. The system is perfectly designed to grow with your business.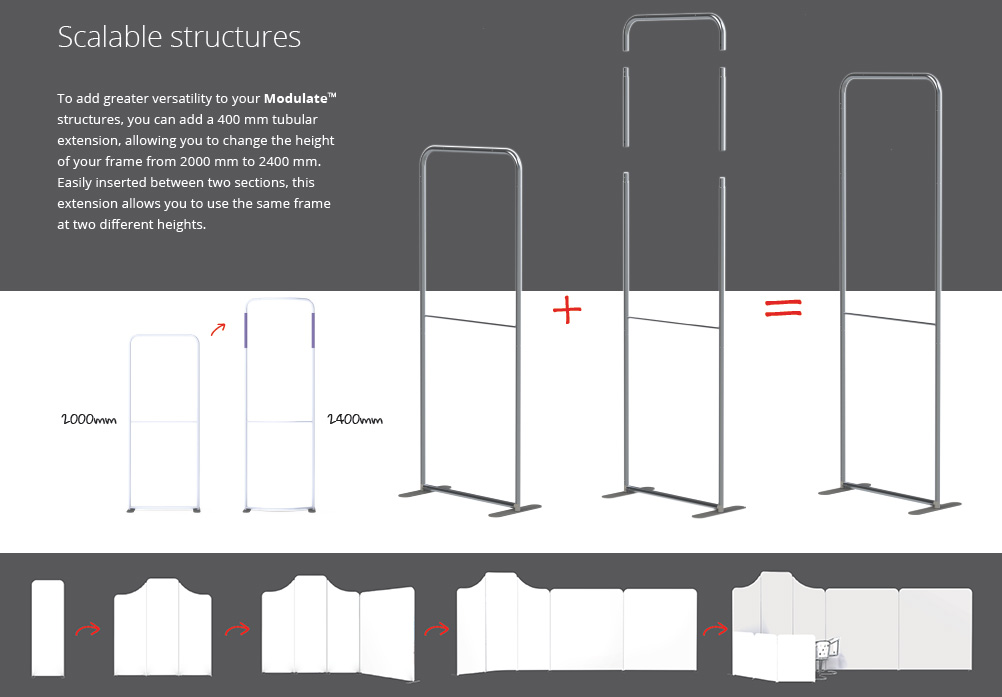 Simple To Transport
One of the perks of the Modulate™ system is that due to the lightweight frame design and the nature of the fabric graphics it is extremely easy to transport and take up very little space when not in use. Simply remove the fabric graphic, unclip any feet that are being used, and then take the frame apart into its individual sections. All Modulate™ stands come complete with a high quality padded carry bag that has dedicated compartments for storing the feet and graphics.

Why Choose Discount Displays?
When you shop with Discount Displays for your Modulate™ displays you are getting over 30 years of industry knowledge and a top quality service that has been provided to hundreds of thousands of satisfied businesses. As well as this you also get:

• A 5 year hardware guarantee
• Lowest price match promise
• An optional graphic design service
• Vibrant printed graphics
• Fast delivery by a reputable courier
• An excellent 5 star rating on Trustpilot
If you need any further information about the Modulate™ system please don't hesitate to get in touch with our team by calling 020 8664 5660, clicking the live chat bubble at the bottom right of the page or using our contact us form.