Paper Sizes Guide and Conversion Tool
Confused about paper sizes or just want a quick reference for sizes of A4, A3, A2, A1 etc? Then you're in the right place! Just to give you an introduction to standards, ISO 216 is the most typical form of paper sizing you will come across, and is seen as the international standard for paper sizes. This standard is also more commonly known as A size paper and B size paper (C size paper is ISO 269). Originally created for the litho and screen print industries where sizes need to be fixed, they are now used extensively in the large format digital printing market.
Our paper size calculator enables you to easily select whatever A paper size you desire and easily convert it to your required unit of measurement. For example, giving you A4 size paper in mm, cm, and inches, allowing you to see 210 x 297mm in inches is 8.3 x 11.7in, which is 21 x 29.7cm.
Paper Size Calculator
Select your size and units in the drop downs below and the dimensions in the paper size calculator will update automatically.
Paper and Poster Size Tables
A Series Paper Sizes Table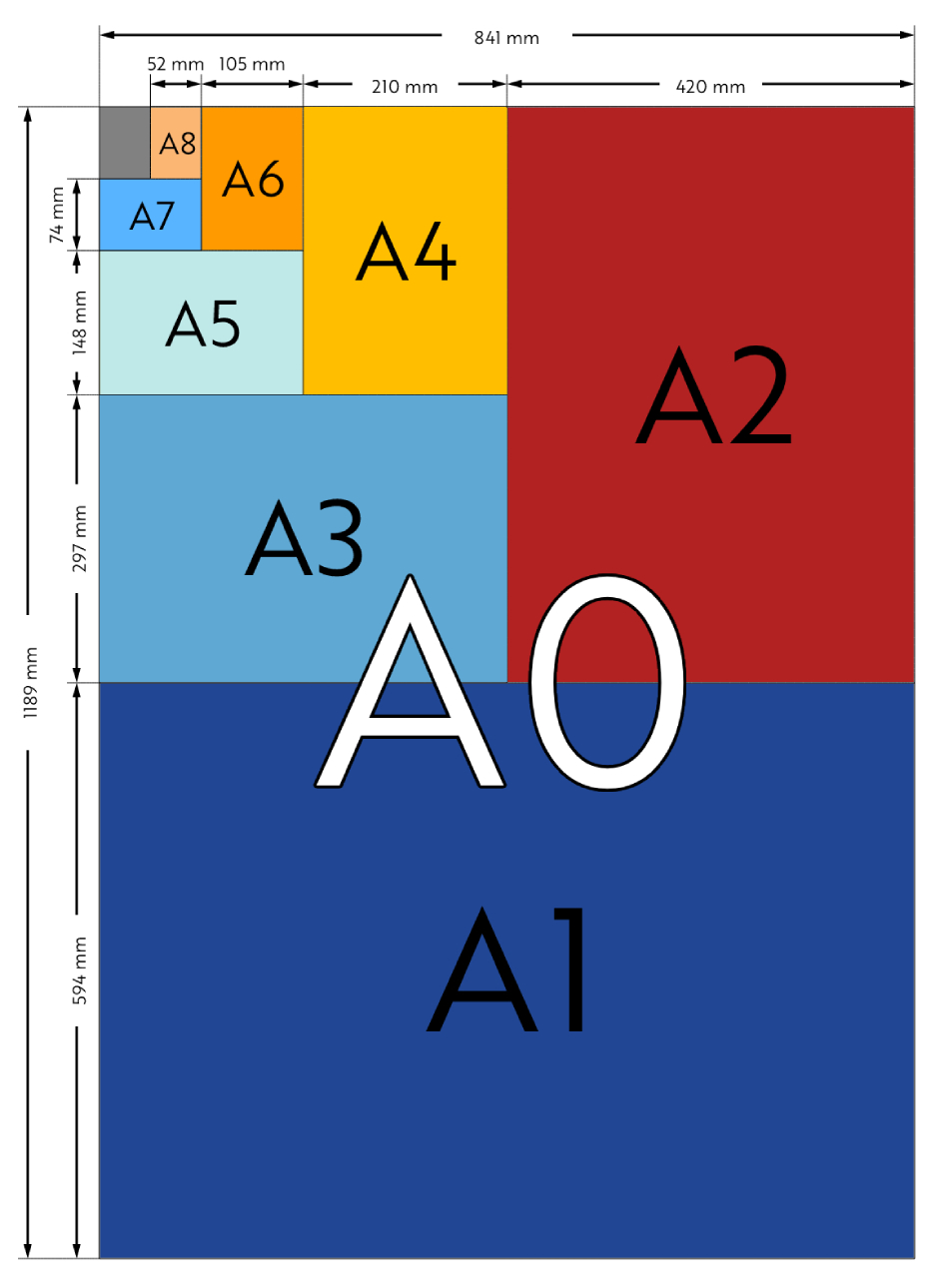 | | | |
| --- | --- | --- |
| A Series Formats | Size (mm) | Ratio |
| 4A0 | 1682 x 2378mm | 1.41 |
| 2A0 | 1189 x 1682mm | 1.41 |
| A0 | 841 x 1189mm | 1.41 |
| A1 | 594 x 841mm | 1.41 |
| A2 | 420 x 594mm | 1.41 |
| A3 | 297 x 420mm | 1.41 |
| A4 | 210 x 297mm | 1.41 |
| A5 | 148 x 210mm | 1.41 |
| A6 | 105 x 148mm | 1.41 |
| A7 | 74 x 105mm | 1.41 |
| A8 | 52 x 74mm | 1.41 |
| A9 | 37 x 52mm | 1.41 |
| A10 | 26 x 37mm | 1.41 |
Popular Uses for A Series Media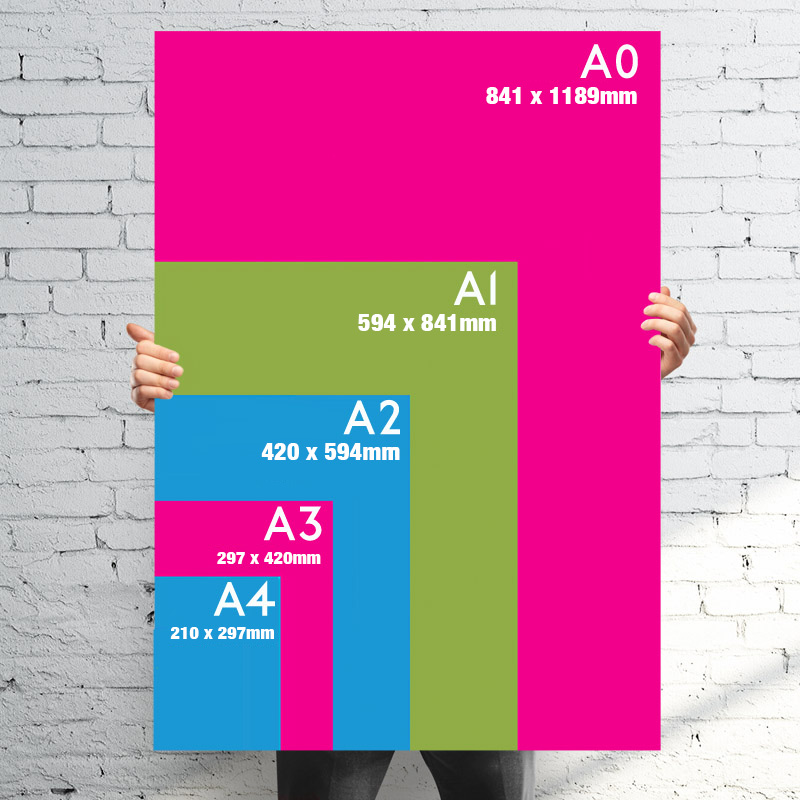 A sizes are probably the format of paper sizing you are most familiar with, and it's the one we deal with the most often when it comes to our set sized media, which usually ranges from A0 to A5 as a general rule.
Signage is one of our most popular products sold in A sizes, and outdoor signs include materials such as Correx, Foamex, and Dibond, all of which are available by default in A4, A3, A2, A1, and A0 along with custom sizes up to 3100mm x 1400mm in various thicknesses. Foamex and Correx, are brilliant for providing advertising and information to potential customers indoors and outdoors, for example in enabling easy navigation of your event or giving the necessary health and safety information in a venue or on a construction site.
Large posters and pavement signs will comprise generally of A2 paper size, A1 paper size, and A0 paper size by standard, however, we also offer posters and pavement signs in imperial sizes like 20" x 30" and 30" x 40", as well as a range of custom sizing choices. Menu boards and poster display cases will also come in A series sizing, however, more so in smaller sizes, such as A4 paper size, and A3 paper size.
FAQs
What is B size paper and C size paper?
The B size paper series is the mathematical mean between the different A sizes of paper, and the C size paper series is also the mathematical mean between different sizes but between the respective A and B series sizes. Therefore, although the sizes may differ slightly they all share the exact same size ratios, 1:√2 (= 1:1.414), but are simply proportionally bigger than each other B is 4√2 ≈ 1.19 x (A_ size), and C is 8√2 ≈ 1.09 x (A_ size).


What is the biggest paper size available?
A0 is perceived as the standard of being the biggest paper size, however, at discount displays we are able to print and provide much larger than A0, so if you should require anything larger check out our
large format print section
where we are sure you will find something to match your needs.
How do UK paper sizes differ from US paper Sizes?
In the US paper the most common paper sizes are Letter and Legal, which are 8.5" x 11" and 8.5" x14" respectively. It is believed that these were the general standards in the American system during the 20th century and as globalisation has occurred the US has deemed itself large enough to not rely on the international paper standard, and therefore has no requirement to change from their use of Letter and Legal. Whereas, in the UK being in a close relationship as well as geographically close to Europe led to us adopting the French developed system of the A size paper series.


What is a Foolscap?
A Foolscap is a size of paper that is just a bit larger than that of A4 size paper, this allows use for filing systems and folders, meaning a person can file away and use clips for smaller size pieces of paper without disturbing the document enclosed. Foolscap measures 8.5" x 13.5" compared to A4 size paper which in inches is 8.27" x 11.69". If there are any other print size terms you are unsure about, feel free to turn to our table of
common large format printing printing terms.
How much bigger is A1 paper than A2 paper & A3 paper?
A1 is 141% larger than A2, and 200% larger than A3. Please refer to our
A size magnification table
for any other size comparisons you may wish to make.
Magnification Factors Between All A Sizes
| from vto > | A0 | A1 | A2 | A3 | A4 | A5 | A6 | A7 | A8 | A9 | A10 |
| --- | --- | --- | --- | --- | --- | --- | --- | --- | --- | --- | --- |
| A0 | 100% | 71% | 50% | 35% | 25% | 18% | 12.5% | 8.8% | 6.2% | 4.4% | 3.1% |
| A1 | 141% | 100% | 71% | 50% | 35% | 25% | 18% | 12.5% | 8.8% | 6.2% | 4.4% |
| A2 | 200% | 141% | 100% | 71% | 50% | 35% | 25% | 18% | 12.5% | 8.8% | 6.2% |
| A3 | 283% | 200% | 141% | 100% | 71% | 50% | 35% | 25% | 18% | 12.5% | 8.8% |
| A4 | 400% | 283% | 200% | 141% | 100% | 71% | 50% | 35% | 25% | 18% | 12.5% |
| A5 | 566% | 400% | 283% | 200% | 141% | 100% | 71% | 50% | 35% | 25% | 18% |
| A6 | 800% | 566% | 400% | 283% | 200% | 141% | 100% | 71% | 50% | 35% | 25% |
| A7 | 1131% | 800% | 566% | 400% | 283% | 200% | 141% | 100% | 71% | 50% | 35% |
| A8 | 1600% | 1131% | 800% | 566% | 400% | 283% | 200% | 141% | 100% | 71% | 50% |
| A9 | 2263% | 1600% | 1131% | 800% | 566% | 400% | 283% | 200% | 141% | 100% | 71% |
| A10 | 3200% | 2263% | 1600% | 1131% | 800% | 566% | 400% | 283% | 200% | 141% | 100% |
B Series Paper Sizes Table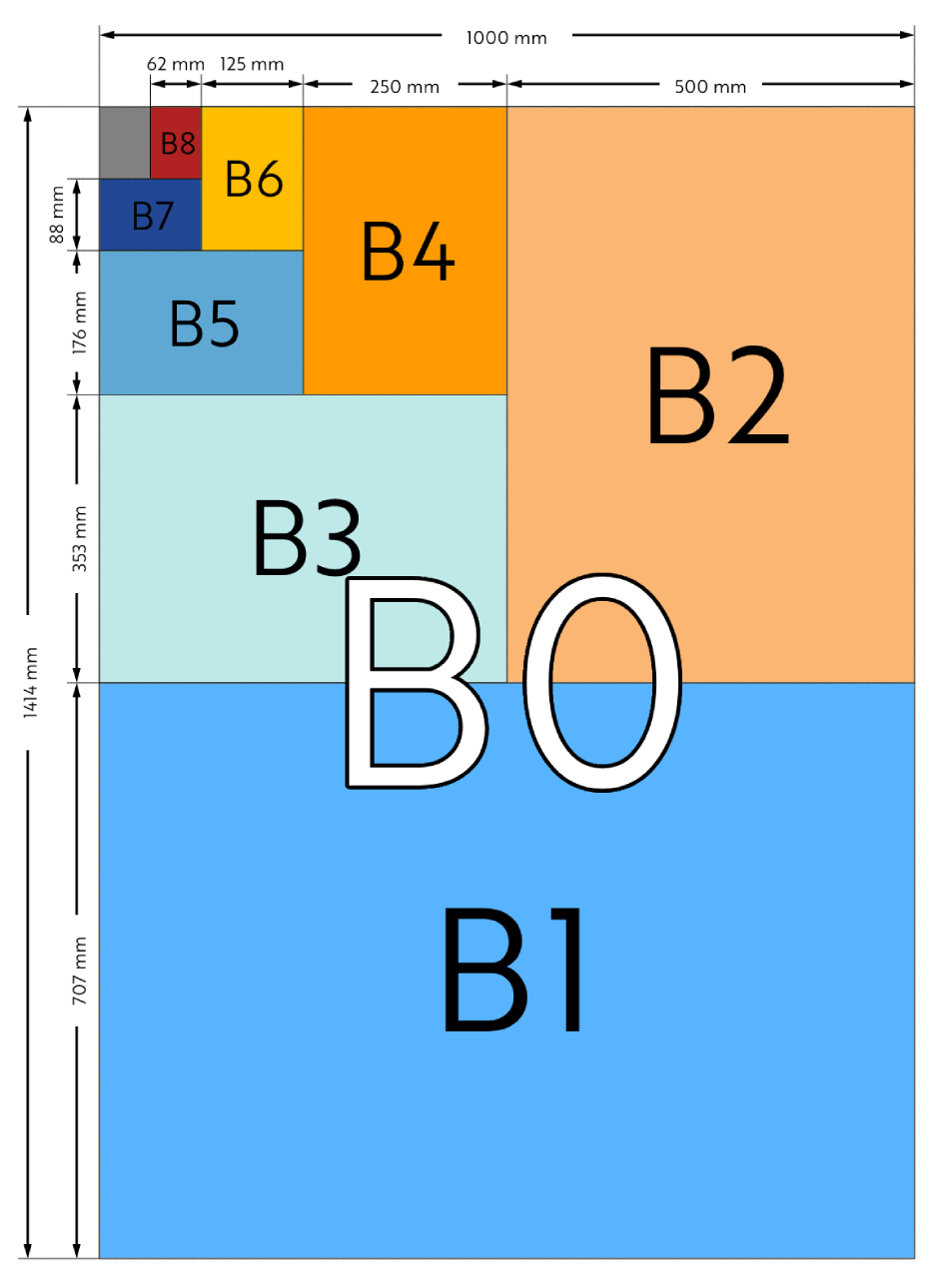 | | | |
| --- | --- | --- |
| B Series Formats | Size (mm) | Ratio |
| 4B0 | 2000 x 2828mm | 1.41 |
| 2B0 | 1414 x 2000mm | 1.41 |
| B0 | 1000 x 1414mm | 1.41 |
| B1 | 707 x 1000mm | 1.41 |
| B2 | 500 x 707mm | 1.41 |
| B3 | 353 x 500mm | 1.41 |
| B4 | 250 x 353mm | 1.41 |
| B5 | 176 x 250mm | 1.41 |
| B6 | 125 x 176mm | 1.41 |
| B7 | 88 x 125mm | 1.41 |
| B8 | 62 x 88mm | 1.41 |
| B9 | 44 x 62mm | 1.41 |
| B10 | 31 x 44mm | 1.41 |
C Series Paper Sizes Table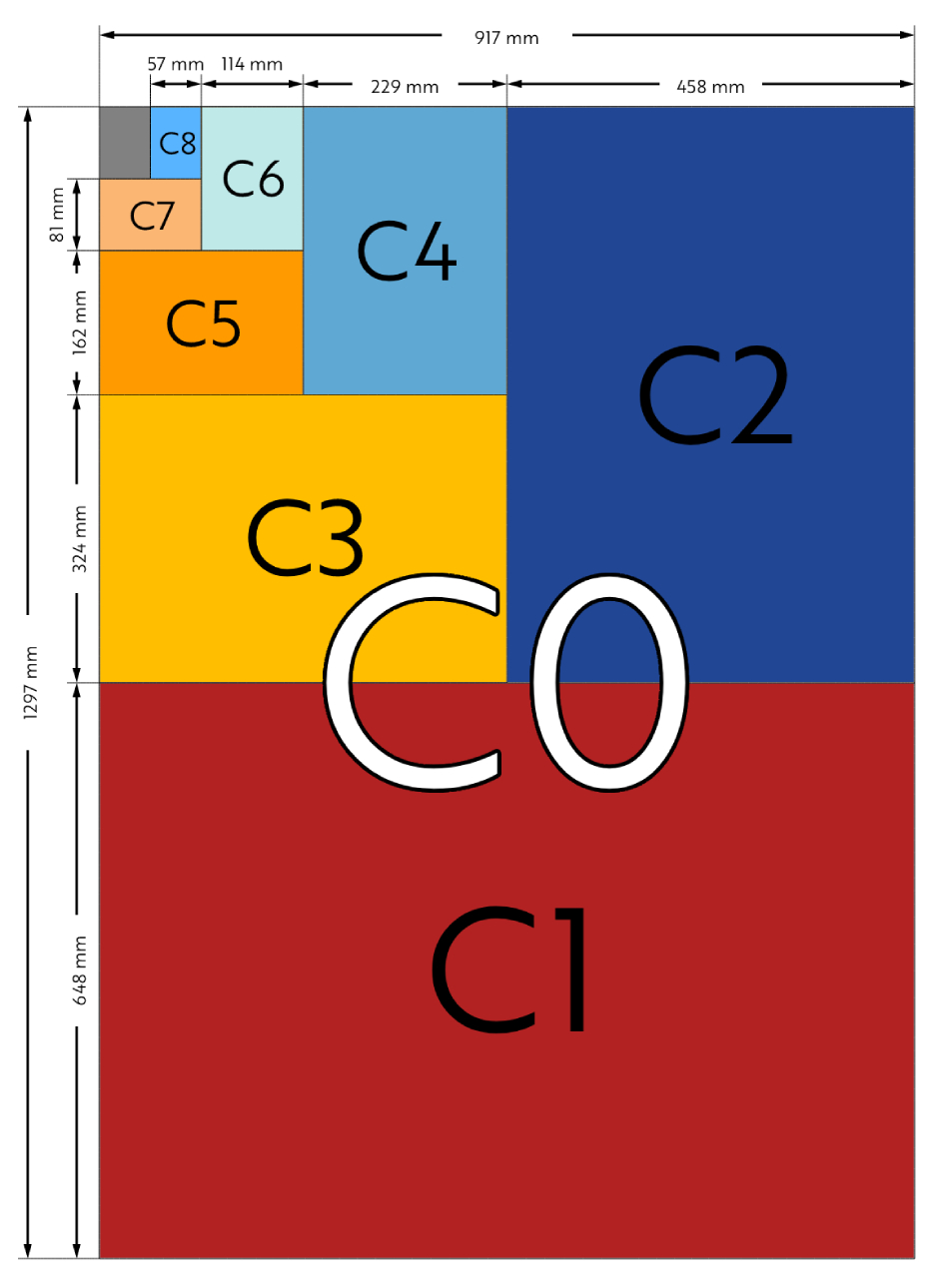 | | | |
| --- | --- | --- |
| C Series Formats | Size (mm) | Ratio |
| 4C0 | 1834 x 2594mm | 1.41 |
| 2C0 | 1297 x 1834mm | 1.41 |
| C0 | 917 x 1297mm | 1.41 |
| C1 | 648 x 917mm | 1.41 |
| C2 | 458 x 648mm | 1.41 |
| C3 | 324 x 458mm | 1.41 |
| C4 | 229 x 324mm | 1.41 |
| C5 | 162 x 229mm | 1.41 |
| C6 | 114 x 162mm | 1.41 |
| C7 | 81 x 114mm | 1.41 |
| C8 | 57 x 81mm | 1.41 |
| C9 | 40 x 57mm | 1.41 |
| C10 | 28 x 40mm | 1.41 |
Common Large Format Printing Terms
| | | | |
| --- | --- | --- | --- |
| Double Quad Crown | 60 x 40" | Elephant | 28 x 23" |
| Quad Demy | 45 x 35" | Super Royal | 27 1⁄2 x 20 1⁄2" |
| Quad Crown | 40 x30" | Double Foolscap | 27 x 17" |
| Double Demy | 35 x 22 1⁄2" | Royal | 25 x 20" |
| Quad Foolscap | 34 x 27" | Medium | 23 x 18" |
| Double Large Post | 33 x 21" | Demy | 22 1⁄2 x 17 1⁄2" |
| Double Post | 31 1⁄2 x 19 1⁄2" | Music Demy | 20 x 15 1⁄2" |
| Imperial | 30 x 22" | Crown | 20 x 15" |
| Double Crown | 30 x 20" | Post | 19 1⁄4 x 15 1⁄2" |
| - | - | Foolscap | 17 x 13 1⁄2" |