Paper Sizes Guide and Conversion tool
ISO paper standards are widely used throughout printing. Originally for the litho and screen print industries where sizes need to be fixed, they are now used extensively in the large format digital printing market. One difference is many large format digital printers use rolls rather than sheets of paper. But graphics in products such as poster frames, billboards, pavement signs and poster frames come in popular set sizes, usually from the A or B series. European displays are metric where in the UK we still have imperial sizes such as 20" x 30".
Paper Size Calculator
Select your size and units in the drop downs below and the dimensions in the paper size calculator will update automatically.
Dimensions
Paper and Poster Size Tables
A Series Paper Sizes Table: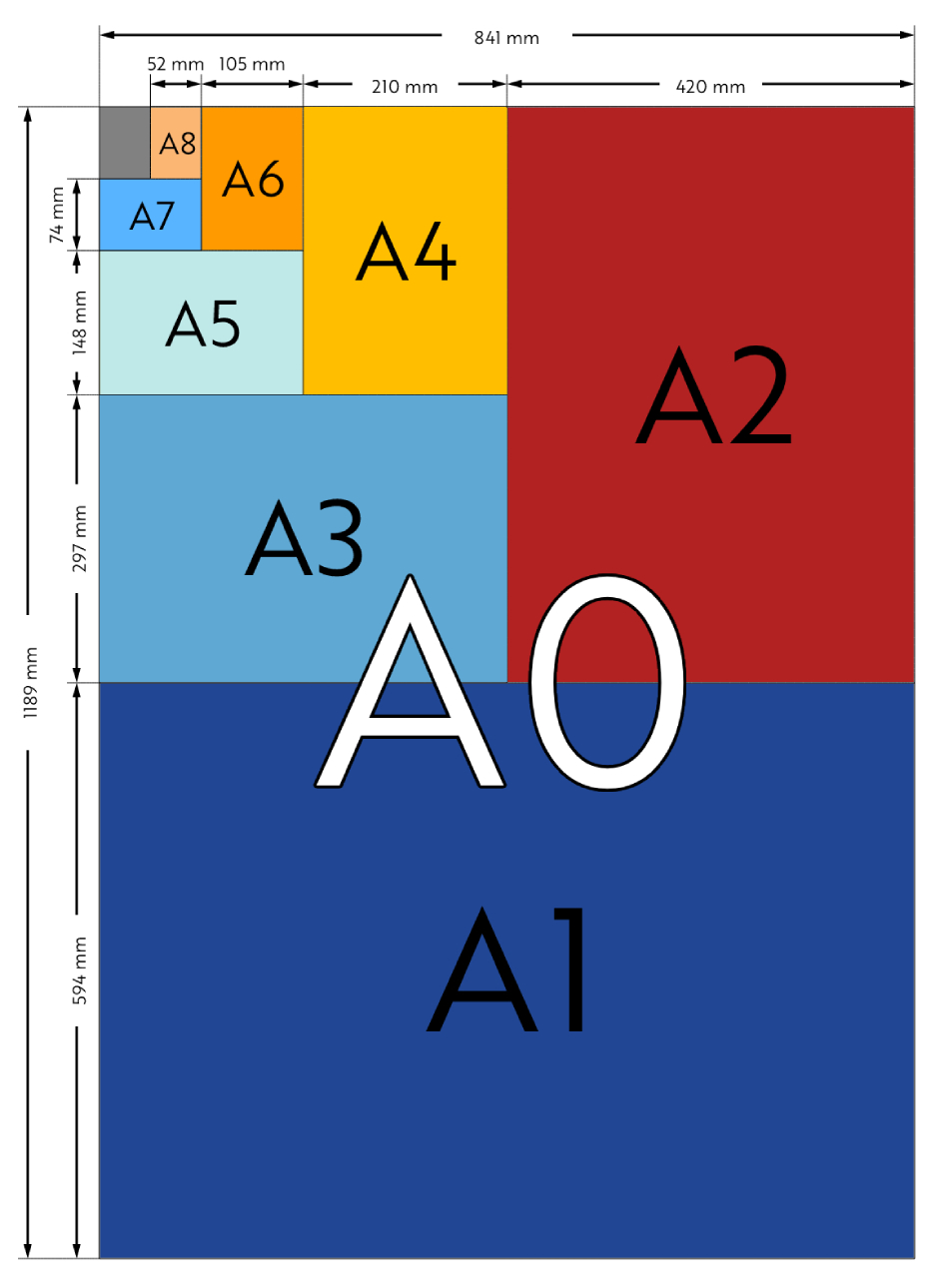 A Series Format 4A0 1682 x 2378mm 2A0 1189 x 1682mm A0 841 x 1189mm A1 594 x 841mm A2 420 x 594mm A3 297 x 420mm A4 210 x 297mm A5 148 x 210mm A6 105 x 148mm A7 74 x 105mm A8 52 x 74mm A9 37 x 52mm A10 26 x 37mm
B Series Formats
C Series Formats
B0 1000 x 1414mm
C0 917 x 1297mm
B1 707 x 1000mm
C1 648 x 917mm
B2 500 x 707mm
C2 458 x 648mm
B3 353 x 500mm
C3 324 x 458mm
B4 250 x 353mm
C4 229 x 324mm
B5 176 x 250mm
C5 162 x 229mm
B6 125 x 176mm
C6 114 x 162mm
B7 88 x 125mm
C7 81 x 114mm
B8 62 x 88mm
C8 57 x 81mm
B9 44 x 62mm
C9 40 x 57mm
B10 31 x 44mm
C10 28 x 40mm
Magnification factors between all A sizes:
| from vto > | A0 | A1 | A2 | A3 | A4 | A5 | A6 | A7 | A8 | A9 | A10 |
| --- | --- | --- | --- | --- | --- | --- | --- | --- | --- | --- | --- |
| A0 | 100% | 71% | 50% | 35% | 25% | 18% | 12.5% | 8.8% | 6.2% | 4.4% | 3.1% |
| A1 | 141% | 100% | 71% | 50% | 35% | 25% | 18% | 12.5% | 8.8% | 6.2% | 4.4% |
| A2 | 200% | 141% | 100% | 71% | 50% | 35% | 25% | 18% | 12.5% | 8.8% | 6.2% |
| A3 | 283% | 200% | 141% | 100% | 71% | 50% | 35% | 25% | 18% | 12.5% | 8.8% |
| A4 | 400% | 283% | 200% | 141% | 100% | 71% | 50% | 35% | 25% | 18% | 12.5% |
| A5 | 566% | 400% | 283% | 200% | 141% | 100% | 71% | 50% | 35% | 25% | 18% |
| A6 | 800% | 566% | 400% | 283% | 200% | 141% | 100% | 71% | 50% | 35% | 25% |
| A7 | 1131% | 800% | 566% | 400% | 283% | 200% | 141% | 100% | 71% | 50% | 35% |
| A8 | 1600% | 1131% | 800% | 566% | 400% | 283% | 200% | 141% | 100% | 71% | 50% |
| A9 | 2263% | 1600% | 1131% | 800% | 566% | 400% | 283% | 200% | 141% | 100% | 71% |
| A10 | 3200% | 2263% | 1600% | 1131% | 800% | 566% | 400% | 283% | 200% | 141% | 100% |
Common large format printing printing terms:
| | | | |
| --- | --- | --- | --- |
| Double Quad Crown | 60 x 40" | Elephant | 28 x 23" |
| Quad Demy | 45 x 35" | Super Royal | 27 1⁄2 x 20 1⁄2" |
| Quad Crown | 40 x30" | Double Foolscap | 27 x 17" |
| Double Demy | 35 x 22 1⁄2" | Royal | 25 x 20" |
| Quad Foolscap | 34 x 27" | Medium | 23 x 18" |
| Double Large Post | 33 x 21" | Demy | 22 1⁄2 x 17 1⁄2" |
| Double Post | 31 1⁄2 x 19 1⁄2" | Music Demy | 20 x 15 1⁄2" |
| Imperial | 30 x 22" | Crown | 20 x 15" |
| Double Crown | 30 x 20" | Post | 19 1⁄4 x 15 1⁄2" |
| - | - | Foolscap | 17 x 13 1⁄2" |