Etched Glass Frosted Effect Vinyl Window Graphics
Etched Glass Vinyl
3
5
5
1
Etched self-adhesive vinyl is ideal for retail signage applications, corporate identity and privacy screening. Our Etch Glass Effect Vinyl and Frosted vinyl offer a realistic, high quality and cost-effective alternative to traditional window etching or sandblasting. They also have the added advantage of being removable at a later date.
Read More
Get An Instant Price
Want a free sample? Click
here
or call us on 0208 664 5600
Key Features:
Creates an inexpensive sandblasted etched glass look
Help to reduce the risk of people walking into glass, as required by Regulation 14 of the Workplace (Heath & Safety) Regulations 1992
Transparent enough to allow light but opaque to offer privacy
Self adhesive vinyl with a frosted finish that fits the inside of window
We can typeset text in standard fonts
For special text and logos you need to supply artwork in a vector format
Easy to fit - Fitting instructions supplied
7 year lifespan
Bulk Discounts - Calculator includes great quantity discounts
Want a FREE sample? Click here or call 020 8664 5660
Cut Type
The reverse cut is where your letters or logo are removed from the frosted material leaving the background. Standard-cut is where the background is removed and the individual elements are stuck to your window. Vector artwork is required (ai, eps, svg, pdf) when uploading a file for this option. Utilize our Free Design Services for any needed design assistance.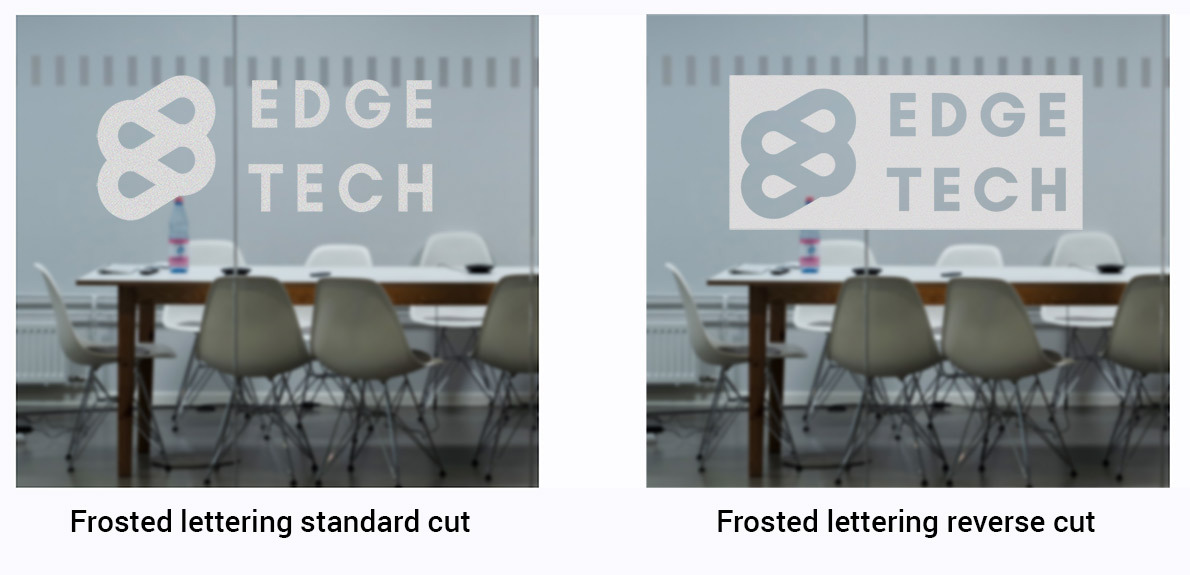 With our vinyl, your text or logo are cut by the computer out of a self-adhesive film for ultimate precision. We have a wide range of typefaces that be cut, but if you have a special typeface or a logo then we need the artwork in a vector format. Read our guide for
vector format
.
Graphics will normally be computer cut in reverse so it can be applied to the inside of the window facing out. This protects the film from the elements and vandalism. We use branded high quality etched vinyl with a minimum of 7-year lifespan.
Etched glass effect window film can be used to create privacy, subtly advertise your company as well as complying with health and safety requirements. To comply with health and safety regulations large areas of glass have to be marked to prevent people from walking into them, these stickers are a perfect way to do this in a modern way.
More Information

| | |
| --- | --- |
| Product Name | Etched Glass Vinyl |
| SKU | AVP-ETCHED |
| Delivery / Availability | 2-5 Days Delivery |
| Type | Etched Glass Effect Vinyl |
| Sided | Single-Sided |
| Usage | Glass windows |
| Durability | Long Term |
| Indoor / Outdoor | Indoor & Outdoor |
| Mounting Options | Self Adhesive Vinyl |
| Can this Product be Recycled? | No |
Vinyl Lettering
If you just require vinyl lettering use our vinyl lettering tool. This tool creates a vector cutting file for you.
Vinyl Logos
To cut your logo or graphic in vinyl we need a vector file. How can you tell if your art is Vector Art? One way is by the file type. Vector art is usually created in Adobe Illustrator, and is commonly saved with certain file extensions. The four most common Vector file extensions are .ai, .pdf, .eps and .svg. If you're not sure if you have vector art, send it to us and we will check it for free. For more information on vector art see our guide below.
Are the stickers printed?
No, they are computer cut into self-adhesive vinyl
What artwork do I need?
If it is straight forward text we can print it for you. If it is special text or a logo we need vector artwork which will normally be a file ending in .ai .eps .pdf
Can they be used outdoors?
Yes they are weatherproof. Often we supply them reverse cut so that you stick them on the inside of the window facing out. This protect them from vandals.
Does this product have a sparkle?
No, it has a finish that looks like frosted glass. If you are unsure Please contact us for a sample.
How is frosted vinyl supplied?
Once your design has been cut out and weeded. The finished design is overlayed with a transfer film. The transfer film keeps all the elements and letters in the correct place.
What material is your frosted window decal made out of?
Frosted window stickers and lettering are made from a very thin self-adhesive material called etched. The Sticker comes with a clear backing that covers the graphic before installation.
Can I buy a blank sheet of frosted vinyl material?
Yes, just put your sizes in the calculator and we will provide a square or rectangular sheets complete with fitting instructions. If you want for example shapes such as circles then please email us.
What is the difference between etched glass stickers and frosted window stickers/lettering?
They are different words for the same product. Both self adhesive etch glass effect films.
Can the decals be cut to shape? Individual letters?
We can pretty much just any design. However very small text of highly intricate designs are not particularly suite to this type of material. As with all signage and graphics simplicity is often the best solution in particular if you frosted window graphic have a privacy function or to stop people walking into the glass.
How log will my etched effect vinyl last?
For use outdoors it depending on how exposed to the sun and elements but you are looking at three or more years. Indoors they will l last at least 6 years.
Will the exposure to sun or the elements ruin my decal or lettering?
Frosted vinyl is weatherproof and can be used indoor or outdoor. Over time exposed to the elements, in particular, the sun will lead to shrinkage and degraded the sticker.
Can you make any design?
We can pretty much make any design. However, the very small text of highly intricate designs are not particularly suited to this type of material. As with all signage and graphics, simplicity is often the best solution in particular if you frosted window graphic has a privacy function or to stop people walking into the glass.
How small or big can my window decal be?
We don't suggest having etched glass stickers any small than 150mm x 150mm. The largest size we can make is 1.2m high by any length. But keep in mind a sticker this size might need professional fitting.
How do frosted window decals differ from clear or opaque window decals?
Frosted window decals bridge the gap between clear and opaque decals. Clear decals allow light to pass through them, while opaque decals don't. Frosted decals allow some light and shadow through, making them ideal for privacy and decorative elements.
Will they be on the window permanently?
No, they are self-adhesive and peel right off. You might be left with some glue residue but cleaning solution and/or a razor blade is an easy way to remove it leaving a window as good as the day you instead of the sticker.
What are frosted window decals and frosted lettering typically used for?
Frosted window lettering and stickers are used in both businesses and homes. They are popular for giving rooms additional privacy, preventing people from walking into windows and corporate branding. The added benefit is that they can be customised to give privacy but also display marketing messages and logos. Home uses include privacy in bathrooms or bedrooms or on a front door window as decoration.
Will it affect the amount of light in my shop?
It won't block out all the light but will reduce it. Please ask us for a sample so you can decide if it suits your purpose.
Can stick it on the inside of my window and have the graphics visible from the outside?
This is often the best solution it protects you sticker from passers-by and the worts of the weather. The image is cut in reverse so the adhesive is on the front of the design.
Can the decal or lettering be used only on a glass surface?
They will work on any smooth clear surface so perspex in a partition would be fine.
Does installation require more than one person?
For smaller frosted decals, installation can be done with one person. For large decals, they can be installed with one person using the right technique. If you haven't done it before having two people is handy.
How do I clean my sticker?
Wipe down the frosted sticker with a damp cloth.
Is it OK to wash my window with the decal or lettering fitted?
Take care so you don't scratch the decal and don't use power washers, Otherwise, it will be fine. Having the graphics reverse cut and installed on the inside obviously avoids any issues.