43" Outdoor Digital A-Board
Product Code:
DIG-OUTABOARD
Grab the attention of the public with this bright and robust all-weather digital A-Board. The battery-powered pavement sign can run for 27 hours before it needs recharging, alongside its IP65-rated outer shell, you'll be able to showcase your store from anywhere.
Read More
2-3 Days Delivery
3 Year Hardware Guarantee
Key Features:
IP65 rated - giving complete weatherproofness
27 hours of run time, from only 7 hours of charging
Smart charge indicator gives accurate battery life estimates
42 inch 700cd/m2 ultra bright anti-glare tempered glass screen
Ambient light sensors provide automatic screen adjustments
5000:1 contrast ratio
Easy to transport with rugged wheels - lightweight and durable
Wheels lock in place with locking bar to prevent theft
Hardware is designed for constant use in a commercial environment
Android based media operating system
Built in dual 5w speakers with built in graphics processor
8gb internal storage
Optional network upgrade allows for seamless media deployment and updates via the internet
Can also be powered by mains if required
Dimensions:
See below for full dimensions
This model is specifically designed for use outdoors, giving a complete weatherproof experience thanks to its IP65 rated outer shell and tempered anti-glare glass screen. These features allow the digital A-board to be set up in any location without having the additional worry of it breaking down or being damaged, and thanks to the locking wheel bar you will have no need to worry about theft either. However, this display will not look out of place indoors in any showroom or restaurant with its sleek and elegant gloss design available in both black and white finishes.
A Full HD 1080p screen provides you the ability to deploy high quality media on the integrated Android media player, this can be done via USB, or if you select the optional network upgrade and CMS software, you will be able to effortlessly deploy and update your digital screen remotely via Ethernet, wireless, and even mobile data.
Option
Overall size
Weight
Unit size
1232 (w) x 604.7 (h) x 478mm (d)
37.5kg
Package size
1310 (w) x 745 (h) x 645mm (d)
43kg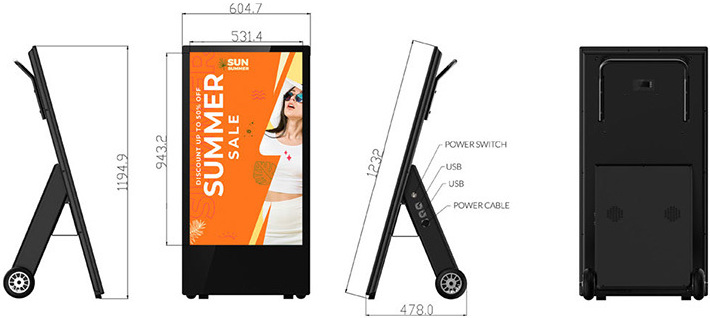 More Information

| | |
| --- | --- |
| Product Name | 43" Outdoor Digital Battery A-Board |
| SKU | DIG-OUTABOARD |
| Hardware Guarantee | 3 Year Hardware Guarantee |
| Delivery / Availability | 2-3 Days Delivery |
| Graphic Size | Other Sizes |
| Weight | 37.5kg |
| Depth | 478mm |
| Height | 604.7mm |
| Width | 1232mm |
| Frame Finish | Black |
Whether you're a novice or a professional when it comes to artwork, we're here to give you the guidance needed to make sure your end result is print perfect.
I don't have print ready artwork, can you design it for me?
If you have the elements, such as text, logos, and text, we can take these and create a print ready design layout for you at a small additional cost. We have a number of affordable set price packages available to suit any requirements. Many of our products have a design service as an additional extra for instant ordering. For products that don't please contact us to discuss your brief. Visit our in-house design service page to find out more.
I will be supplying print ready artwork.
Many of our print products have the option to upload your artwork on the product page. If that option is not available, you will receive an email shortly after placing your order with instructions on how to send your artwork files.
In order to avoid any delays in production, please follow our guidelines below to make sure your artwork is ready to go. If you have any questions, please don't hesitate to get in touch to talk to one of our team.
Resolution - 100dpi At Full Size
Generally, 100 dpi is a good standard for images with the document size set at full size of the large format printed product. For example, if you want to order a 40"×60" print, the image size should be 4000 pixels (40 x 100) by 6000 pixels (60 x 100) at 100 dpi.
100% scale at 100 dpi
50% scale at 200 dpi
25% scale at 400 dpi
10% scale at 1000 dpi
If any dimension of the product is greater than 5000mm, please produce the artwork to scale. For very large artwork such as hoarding walls, 10% scale can be utilised at 1000dpi for images, or use vectors as these will scale perfectly.
Bleed - 5mm All Around At The Final Print Size
If you are creating set size artwork for hardware then please use the product template. If you have ordered a custom size product please ensure you include 5mm of bleed on your design.
You only need to add print bleed to your artwork if the design extends to the edge of the page. If all of your text and images are in the centre of the design and are surrounded by a plain white background, you won't need to worry about print bleed as the edges will blend seamlessly into your overall design. If any element of the design goes right up to the edge of the page, a 5mm bleed on all sides is necessary.

Colours - Please Supply All Colours As CMYK+
Computer screens use RGB, while printers use CMYK. You may ask why this matters? Most colours created in RGB can be closely matched in CMYK but some cannot. If colours are critical we always suggest ordering a printed proof.
Other things you can do to check your colours:
- Use a calibrated monitor (colours vary from monitor to monitor)
- Use a printed CMYK colour swatch to check your colours
- Don't check samples from a desktop printer
- Order a printed proof from us (this may cause an increase in lead time)
Fonts - Please Embed, Flatten, Or Convert To Curves
For large format print, we recommend that the minimum font site is 8pt (point size).
Our preferred file format for print-ready artwork is a PDF, please make sure you embed any fonts for perfect results. With other file formats please ensure fonts used in your design are converted to outlines and include all fonts and images used when you send your files to us.
Do You Need A Proof?
If you are providing print ready artwork, we do not provide a proof as standard, which enables us to get your print to you quicker. If you require a proof please get in touch with us to discuss. We do provide a free technical file check as standard, as outlined below.
We can provide a machine print proof for the extra cost of £25 plus delivery. This involves printing an A3 proof on the machine that will be used to produce your final print. This will give you an accurate representation of colour. If you are using our design service, we do send out a PDF proof, which is an accurate representation of content and positioning. It is not an exact indicator of the final colour due to the limitations of screens.
Quoted delivery dates for print are from approval of artwork, so please bear in mind that requesting a proof may delay the delivery date of your product.
Delivery
After you have placed your order a provisional despatch and delivery date will be sent to you via email.
Our standard delivery time for printed products is 2-5 working days after artwork has been approved for print. If you have a specific deadline, please contact us to ensure we can meet this. Please check that your artwork meets the guidelines above to prevent any delays in approval.
Free Artwork Check
Before we go to print, we will carry out a free technical check on your artwork. If there are any issues, we will contact you to let you know what needs to be changed.

Colour Matching
Our printers and media are of the highest standard and are carefully calibrated to produce vibrant, full colour prints. The process involves CMYK printing and this means it is not always possible to match Pantone colours, but they will be converted to the nearest CMYK equivalent.
If exact colour matching is critical, please send us a physical copy of other printed material, such as a letterhead or brochure, and we will check your file prior to printing. If we cannot achieve a reasonable match we will call you to discuss.
Please send any physical examples to: Discount Displays, 31-35 Wortley Road, Croydon, Surrey, CRO 3EB.
Need more help? Check out our full artwork preparation guide below:

PREPARING YOUR ARTWORK - VIEW OUR GUIDE
Is the product suitable for indoor use?
Yes. The battery powered A-Board can be used indoors or outdoor, it even features an ambient light sensor to adjust the screen brightness depending on the environment it is placed in. However, if you are buying this product with the intention of indoor use and outdoor use under cover, then see our indoor version.

How long does the battery last?
The integrated lithium polymer battery is rated to last for 27hrs, however, some media played on the digital signage software and running the digital A-board at full brightness will negatively affect the battery life, therefore, you may only get 14hrs of use on a single charge. Regardless, you can use the smart charge level indicator at the rear of the display; which gives an accurate estimate of the remaining battery life, so no unexpected shutdowns occur.

How bright is the screen?
700cd/m2, which is roughly 3 times brighter than your standard TV, providing you with a high visibility digital signage solution.

Can I run the display from mains power rather than the battery?
Yes. If you are wanting to run the display via the mains you just need to plug in the supplied power adapter and you're good to go, this could be a suitable solution if you wish to display the A-board inside as a menu board.